"I guess you could say that my mother's artistic career began with the fashion illustrations that she painted during high school. Later, she was part of a Cincinnati art group called the Brushettes. They were basically housewives who enjoyed painting and feeding each other's souls—instead of a book club, they formed an art club. Cincinnati artist Elmer Ruff led them and guided their artistic style. He came to dinner several times, and he and my mom used to go antiquing together. There's a Ruff in the sale that was a gift to her.
Around the time my sister graduated from college in 1972, my mom started her restoration work. She had empty nest syndrome, so she got a job with a local antique dealer, Sam Aronoff, who encouraged her abilities. She started by decorating people's homes with Aronoff's pieces, and then moved on to restoring frames, reapplying gesso and gold leaf. Soon she was working for the Cincinnati Art Museum and Randy and Michele Sandler, who still own art galleries in the city. What started as her dabbling turned into advanced restoration work in her basement studio, a very meticulous and tedious process. She knew the cutting-edge techniques for cleaning paintings, and would infill if something was missing.
Once she got into restoration, her own art really blossomed. She used to hang her paintings in local art shows, and my father made all her frames and easels. And then she was exposed through her work at the museum and with Aronoff and Sandler to a large variety of artists. She went from a loosely structured style to very specific and detailed painting. I have a painting in my home which is very impressionistic—it reminds me of Charles Meurer, whom she collected. But she also did pen and ink work that was very much like etchings and lithographs. The more she saw, the more she wanted to express her own artistic style." – Nancy Jackson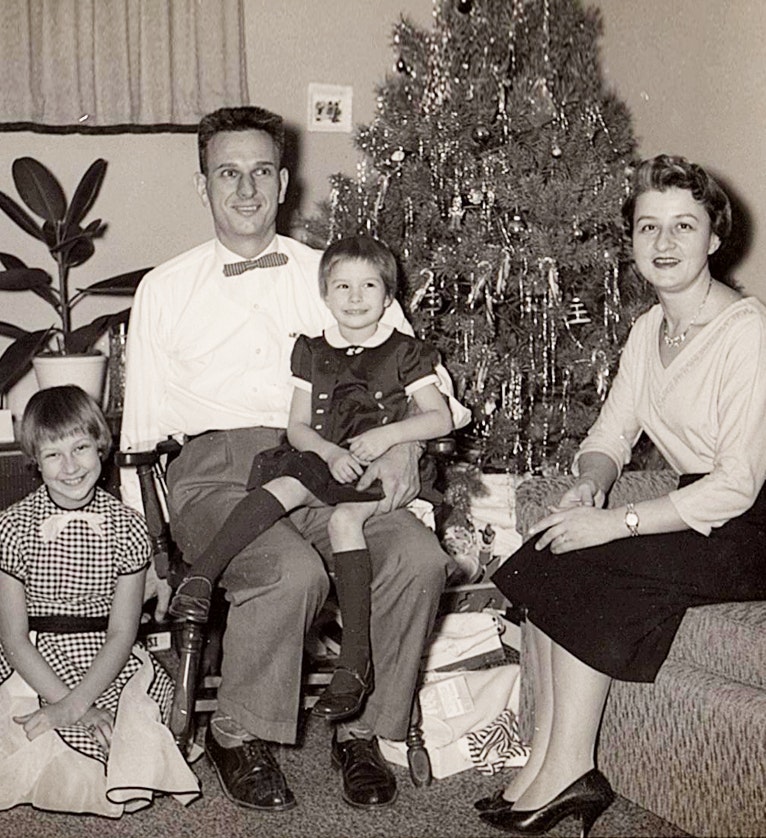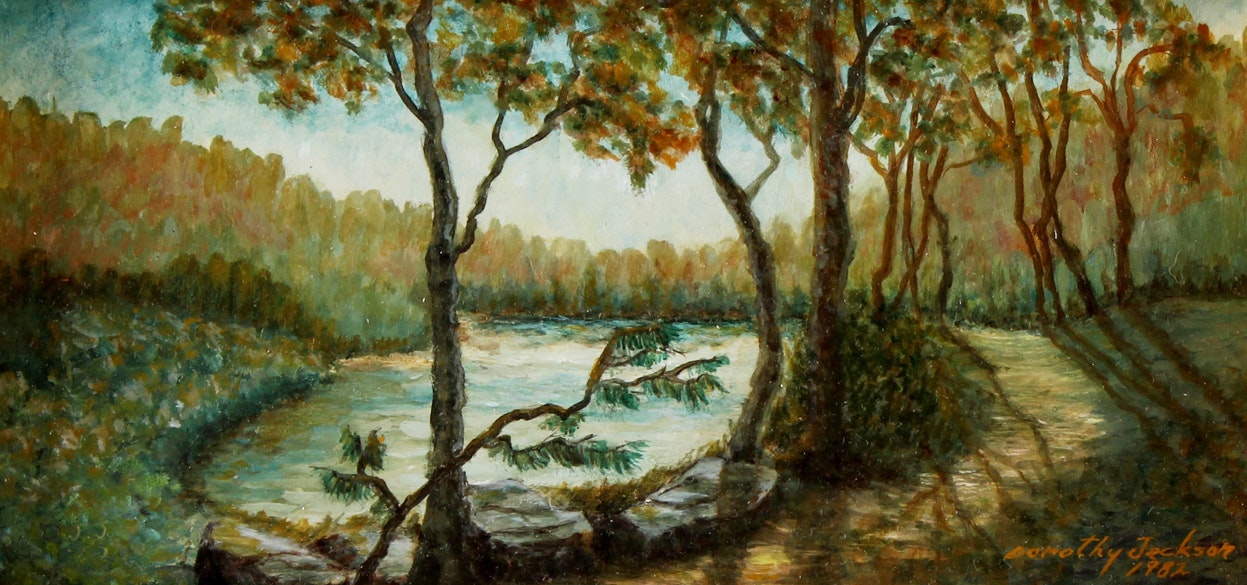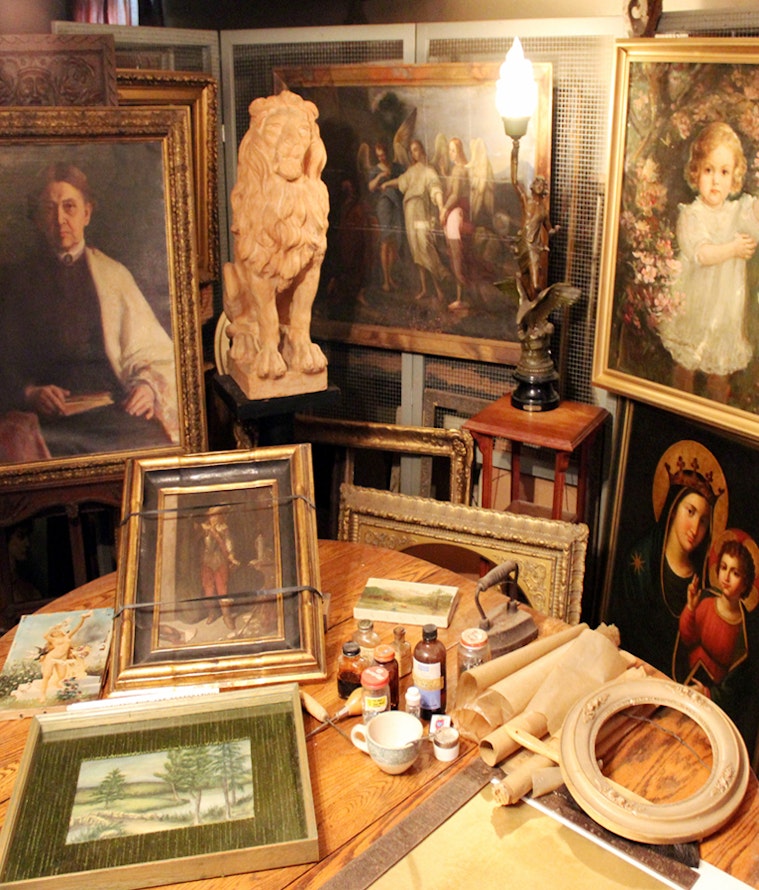 Your mother was also a collector. Did that happen at the same time as the painting and restoration work?
It started before we were out of school. We moved to Cincinnati in 1955, which meant at least one annual trip back to Erie, PA, where we were all born. We'd be driving down these secondary roads—this is before interstates—and we'd come across a sign that said yard sale, and we'd have to pull over. Early on it might have been carved wood items, maybe some interesting glass pieces. She had a collection of unusual creamer pitchers. There were pottery pieces from southeast Ohio: Rosewood, Rookwood. She recognized the beautiful and special even though she was just getting her feet wet with collecting.
If you had to pick a couple of pieces from the sale to highlight, what would they be?
The one from my perspective that's most impressive is a very large T.C. Lindsay painting of cows – my mother collected cow paintings. It's under glass which is very atypical for that 1880s time period. It's a spectacular piece. The other I think is really amazing is the egg tempera Madonna and Child with a large amount of gold leaf and Greek or Byzantine characters. It's a very personal depiction—the child has slipped off one of his shows. The paperwork from the Vatican is still there too. Of my mother's paintings, there's one that is a still life in blue tones, and another of a woodland scene next to a meadow. Those are probably my two favorites.