Strung between homes in Atlanta, Tuscaloosa and a beach house hideaway, Josephine and Clark Hutchinson knew it was time to downsize and sell off the contents of their Atlanta abode, and that would mean parting with the impressive number of framed signatures Josephine inherited from her father and uncle. Mutual history buffs, the brothers amassed an incredible variety of historical autographs and signatures as a joint hobby.
In signed letters, executive orders, autographs, manuscripts and other ephemera, the walls of the Hutchinson's home hosted signatures from America's founding fathers and other prominent American figures. The signers of the Declaration of Independence were prominently displayed in the two connecting hallways in their home, while other notable names like Harriet Beecher Stowe, Martin Luther King Jr. and Winston Churchill decorated the library.
Fans of sports autographs herself, the love of collecting signatures was something else Josephine inherited from her dad. Now happily settled at the beach with a consolidated collection, the Hutchinsons will continue to enjoy their own slices of sports history while collectors and enthusiasts make the most of her family's storied collection.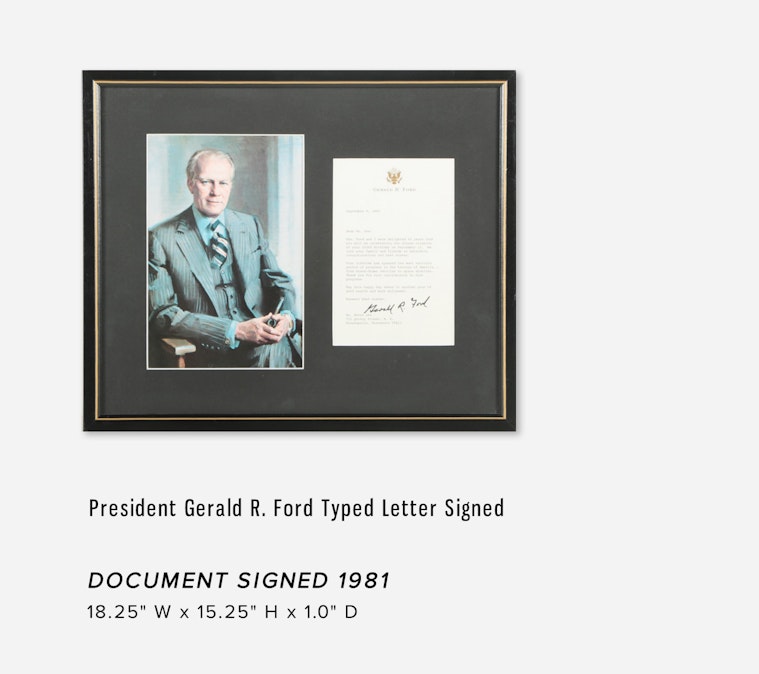 Is there particular signature you're fond of?
My husband is a retired minister and my dad gifted us most of the religious signatures. We have Gerald Ford because he was the only man ever to serve as President and Vice President and was never once elected by the people. His signature is a bit of quirky history.
Which items are you most excited to see sell on

EBTH

.com?
"We are most excited to see these signatures sell to someone who will love and treasure them as my dad, uncle and we did for many years. We would hope that they will be shared with others to perpetuate a love for our country and its history."