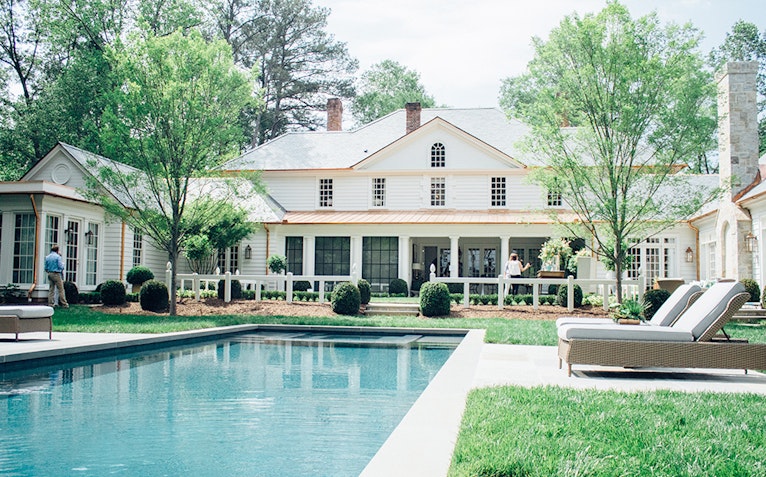 Our latest trip to the southern metropolis showed us exciting facets to the city — beautiful industrial design, eclectic boutiques, emerging innovators; and, of course, a classic southern mansion for good measure.
Humidity couldn't keep us away from this year's epic Southeastern Designer Showhouse & Gardens by architect Yong Pak and builder Michael Ladisic, with interiors by some of the area's design luminaries. While visitors oooh'ed and aaah'ed over the landscape and brilliantly-conceived rooms, EBTH served champagne in vintage glassware by the infinity pool, and Moscow mules in the man cave inside.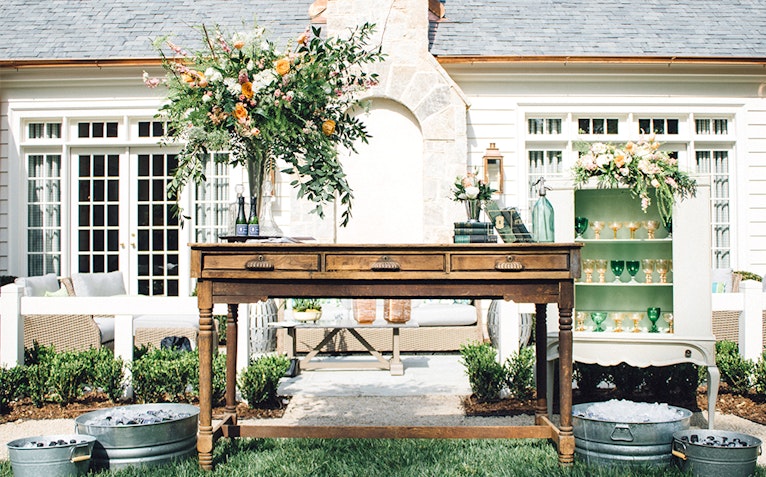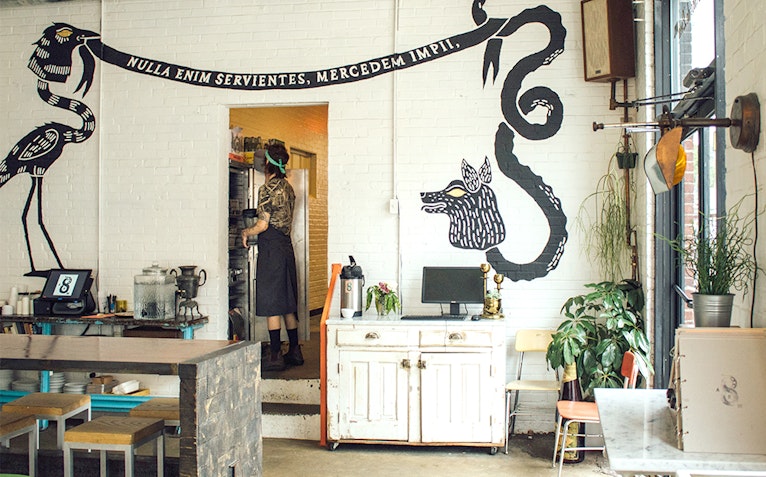 To fight off the lingering effects of those mules, the next day we woke up and wandered into 8 Arm for an early morning coffee. Little did we know it was a serendipitous start! Everywhere we went in Atlanta, people raved about this place — whether for the food or the late night scene. We had avocado toast and a mocha latte while we admired the awesome tiger mural by graffiti artist Greg Mike, and then we hit the town.
Caffeinated, we headed next door to Paris on Ponce , the sprawling 46,000 foot market with over 30 independent boutiques and vendors. It really felt like a new wave of vintage, with lots of exciting dealers all together from the design community. We loved the pins by the cash wrap, lingered at the best-curated Cover Books, and practically had to be dragged out of the rug boutiques.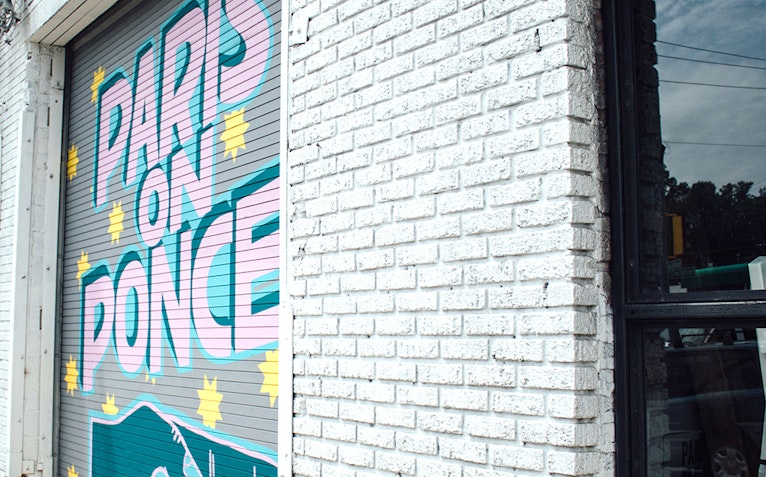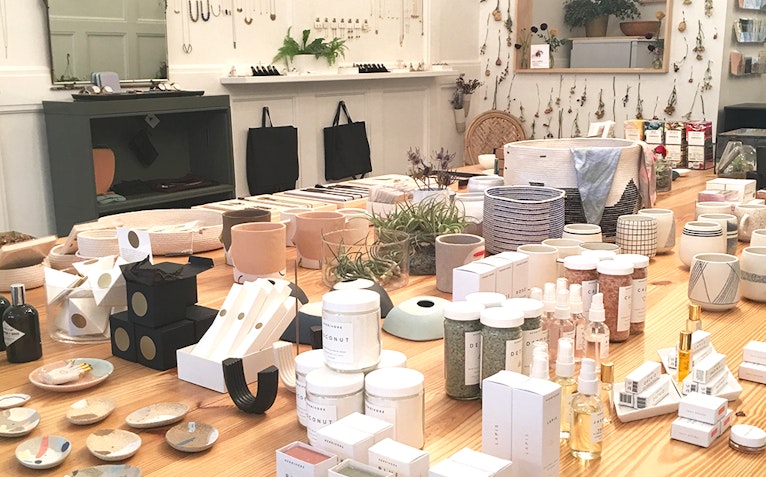 Next up was Young Blood Boutique, a small craft and design shop that does an expert job of mixing organic and modern design. After perusing the ceramics, fragrance, jewelry, home apothecary and greenery, we took the plunge and went home with incense and a ceramic holder. We'll definitely be back to take advantage of their new floral boutique, where you can customize your own bouquets.
A longtime institution of the city's Five Points neighborhood, Criminal Records is the go-to for hard-to-find music, no matter how obscure. We met Cesar, the head cataloguer, who sifts through thousands of vinyls and prices them according to his encyclopedic knowledge of the history of music.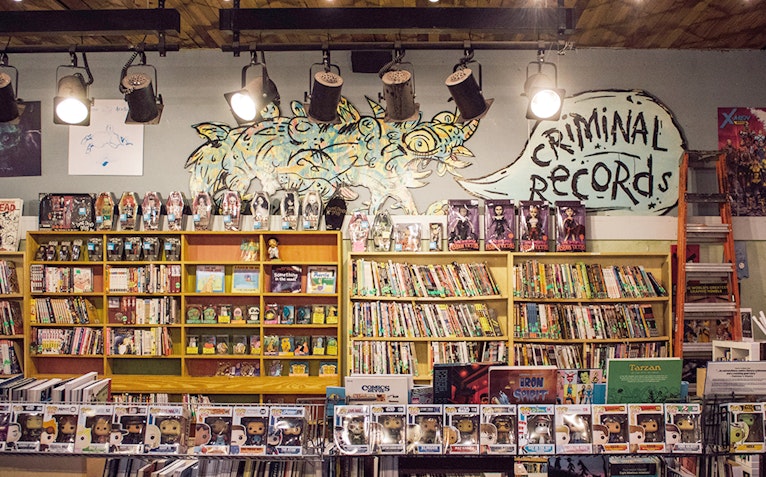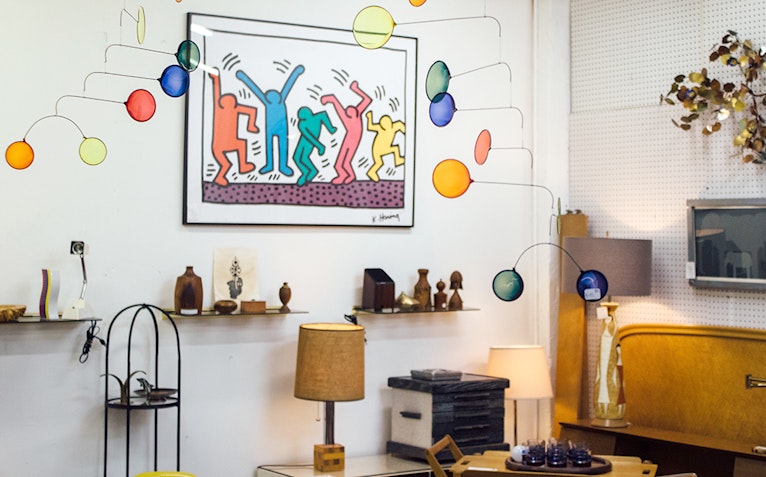 After we found the deceptively small storefront at Highland Row Antiques, we descended into a more-than 10,000 square foot basement filled with vintage treasures, from mid-century furniture to Mick Jagger posters, vintage Harley vests and denim. We went home with a Roberta Flack vinyl, a small antler candelabra, and a t-shirt that says "Buns in the Sun."
Then, we headed over to Collect, which had a collection of vintage books and clothing that blew us away! The owner, Christina Swilley, has done an incredible job of mixing brands and styles – from Miu Miu to Escada, and nineties denim galore.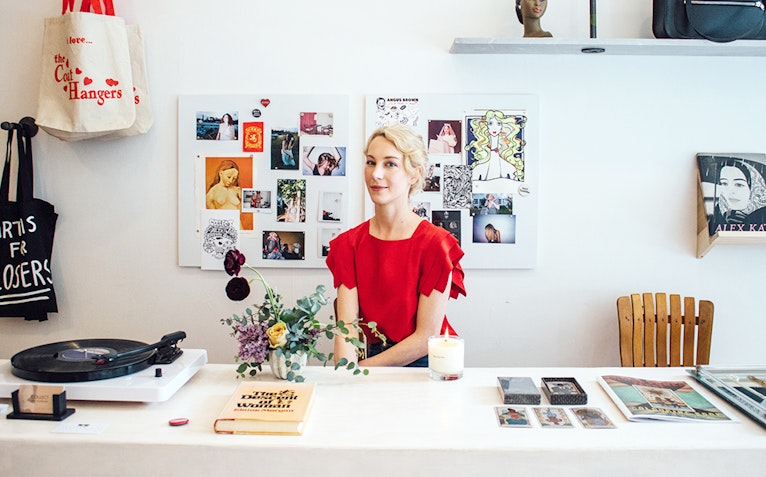 It was time to eat again, so we made our way to Krog Street Market — a vast food hall built into a refurbished 1920s warehouse. The cuisine offerings were varied, but because this trip is all about Atlanta, we thought it only right that we get hot chicken from King Richards' Southern Fried. We also tried collard greens waffles, and now we're hooked! Crunchy, savory-sweet perfection
A long walk was in order after all of that chicken, so we headed to The Beltline – the city's 33-mile network of multi-use trails. The public art dotting the green space was our favorite part — whether discovering murals under bridges, David Landis's stainless steel leaf structures and bright, unexpected color.
Shop Atlanta