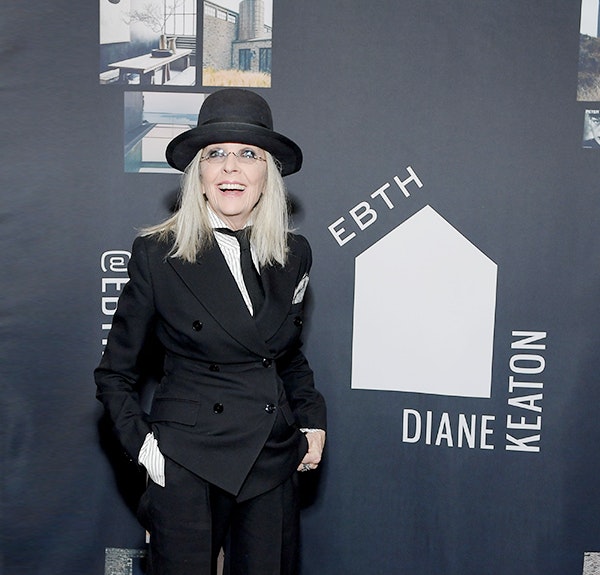 "I would say my design aesthetic is constantly evolving," says Diane Keaton, whose passion for interiors has been well-documented in home renovation projects and contributions to sumptuous books about California architecture and design. That developing aesthetic would find a perfect outlet when, at the suggestion of director Nancy Meyers, the actor and author discovered Pinterest, where she'd pin inspiring interiors, architectural wonders and nostalgic photos with aplomb. Those beloved boards became the basis for her next project: building a home from the ground up.
That process, guided by her pins, is the subject of The House that Pinterest Built (Rizzoli), a beautifully rendered book of photography and Keaton narration that traces her home from digital tear sheet to drought-resistant, brick-built one-of-a-kind 8,000 square foot home. "I love incorporating items that have a story," she says, of the vintage pieces that make their way into her home. "Sometimes that story hasn't been told yet — and sometimes the pieces I'm drawn to are full of history. Vintage adds to the soul of a home." Read on for a look at how The House That Pinterest Built was built, and bid on pieces that capture the look.
LIVES

OF A

HOUSE
This book, Keaton explains is the latest in a string of artistic visions come to life. "I've been a dreamer all my life," she says in the the introduction. "I've moved from one dream to another and another…all in the name of a house. And I can tell you this. I was lucky with The House That Pinterest Built. In the end, the whole thing feels like a mystery come true."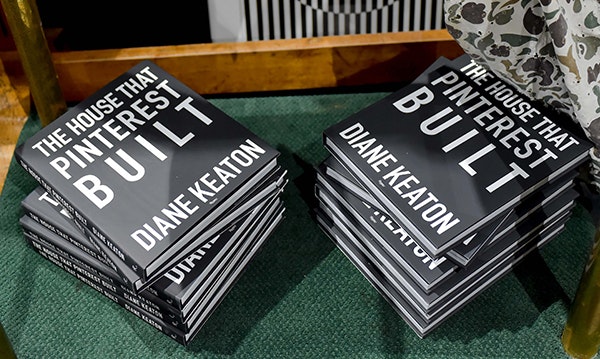 BRICK

BY

BRICK
The actual House That Pinterest Built is an 8,000 square foot structure made of 75,000 bricks with an office in the backyard," says Keaton, of the three-and-a-half-year project which was a combined effort of architects, contractors, designers, builders, landscapers, masons, electricians….and all of her pins. "These people are the people who built the house….With their savvy, their experience, and their kindness, they constructed an 8,000 square foot fireproof, earthquake resistant, bricked in, water resilient, plumped, alarmed, electrified, walled-in compound. And they did in spite of a of a constant influx of photographs that had to be considered and pondered in deference to the owners obsession."
ROOM

TO

LIVE
Integral but ill-defined, the living room provided Keaton with a dilemma: "My question is this: Since living rooms are basically family exhibition halls, why call them living rooms? Even more troubling, why does the living room have the most real estate but the least live encounters?" She remedied it by amping up scale and space. "[The designer] suggested we embrace the size. Enjoy the light, and keep it uncluttered. Why belabor the poor room?" she says "[Another] thought we would do well to make more of the fireplace by cladding the entire wall with brick, maybe on the other side too."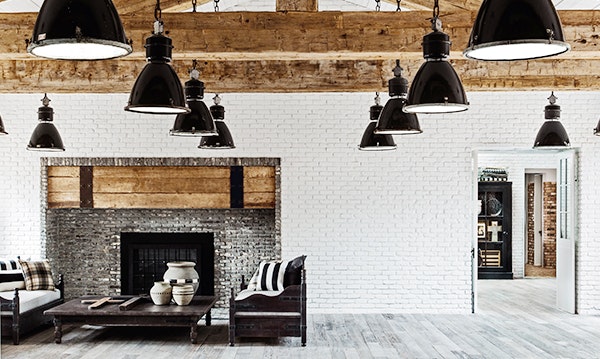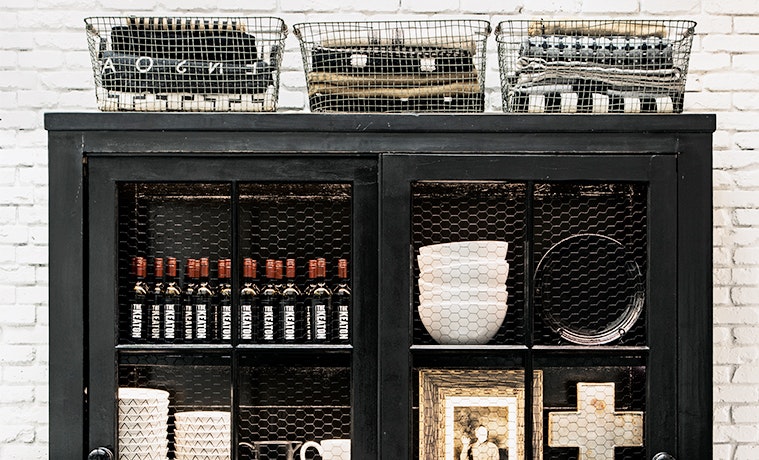 SHELF

LIFE
Keaton thought about storage intensely, considering the best way to store everything from blankets to Q-tips in the bathroom. She sometimes accented these devices with pieces that that were rich with stores.. "I'm a picker at local flea markets," she says. "But I also have help from my sister Dorrie Hall of Monterey Garage. She has an amazing eye. And I frequent some stores in Los Angeles like Obsolete, Gallery Half and Big Daddy."
TAKE

A

PAGE
Keaton envisioned a warm living room unlike "The same old lumbering rectangle" by adding in ladders and a library —  inspired by a pin of The Long Room at Trinity College in Dublin, home to 200,000 books. "That was the solution. Duh! The living room should be a library," she says in the book. "A Living Home Library…I would create a 17-foot-high, floor-to-ceiling library featuring visually driven books on every topic, by every artist on subjects including Architecture, design, History, Lifestyle, Natural Wonders, The Animal Kingdom, Fashion Botany, and of course Paintings of the Renaissance."
Though her final home library didn't wind up quite as lavish, the concept did come to life in the house. " I know I got carried away, but one thing can't be denied: in order to see you have to look. Books, those elegiac tokens of forgotten moments captured by the click of a camera enhance and enrich our lives. How about that."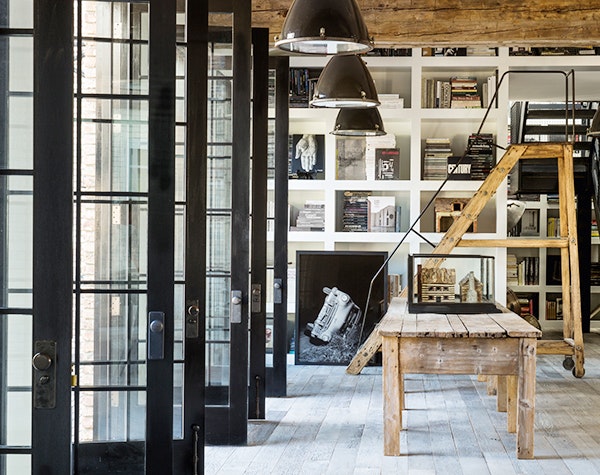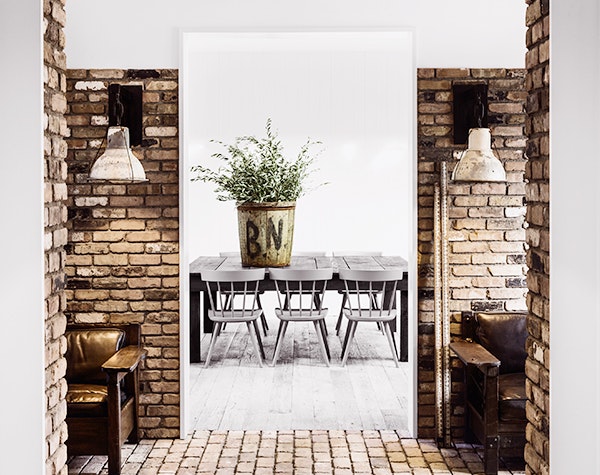 WHERE

THE

HEART

IS
The kitchen; the room Keaton considers "The Heartbeat" of the house was inspired by a Pinterest image to which she returned again and again. "The big attraction was the reclaimed wood beams thrusting themselves out from under sky-lit steel casement windows," she says, describing it. "For me, an expansive skylight means one thing: it means light, ever-shifting, alway moving, variable light all day long. In the foreground, stretching across the width of the kitchen was my favorite object…a long table with chairs resting underneath the trusses. Nothing like a table shared with family, friends, Emily the dog and the New York Times. Three years later this photograph still represents everything I wanted. It's simply, dynamic, friendly, and framed by the wonder of ever-changing light."