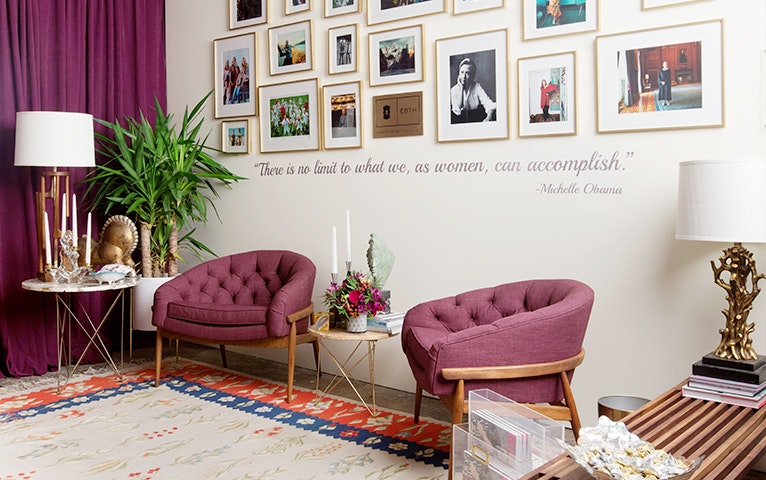 The Glamour Women of the Year Awards honors extraordinary and inspirational women (and for the first time this year, a man) from fields including politics, entertainment, fashion and business. This year, Gwen Stefani, Bono, Zendaya and Miuccia Prada were among the honorees celebrated by the iconic publication. EBTH was thrilled to design the green room for the highly-anticipated event, and each piece of décor is now available in this exclusive auction. Read on to learn about the inspiration behind the room and how to get the look.
EBTH is proud to partner with Glamour to support The Girl Project, which will receive a portion of proceeds from the sale.
1. Start With One Key Piece or Theme
Building off of one key element is a great place to start when curating a space. Find an item that inspires you and design around it. For this room, that piece is a pair of rare Milo Baughman chairs that were among the first objects found for this project. Their deep royal purple color and mid-century legs reminded us of a 21st century Palais Royal–elegant, modern and glam.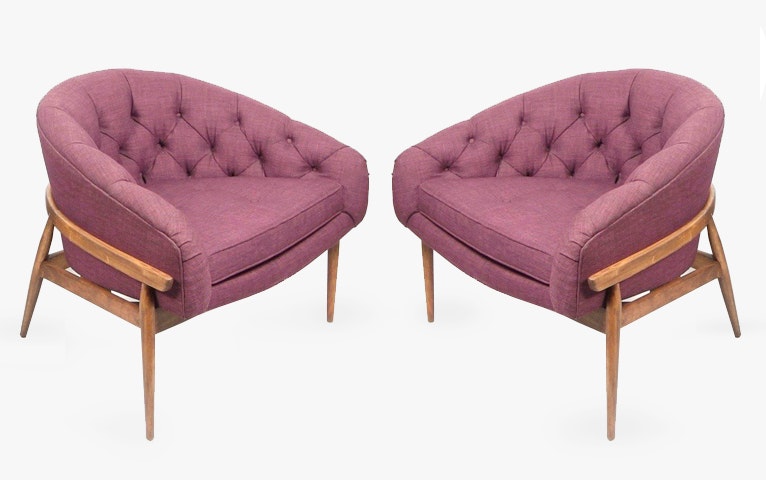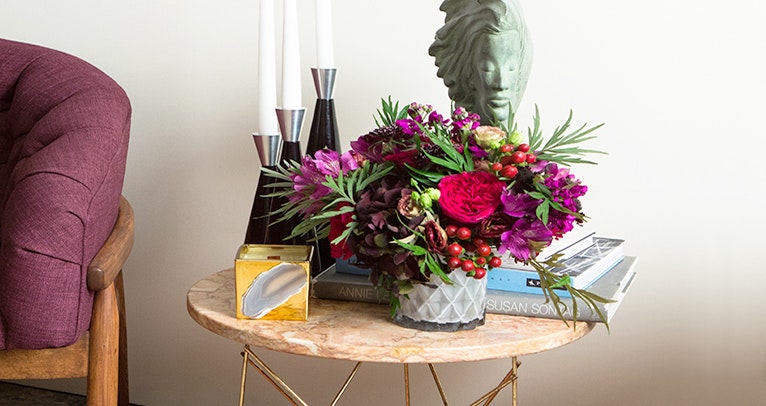 2. Keep it Modern By Mixing Hard and Soft
To keep things from looking like a theater, a brightly colored antique Romanian rug balances the weight of the background draping and lights up the space. Angular sculptures and metallic touches seem right at home amidst the traditional French-inspired color story, rich wood, milky marble and soft textures. Mixing and matching unpredictable color pairings, textures and materials can keep things modern and balanced.
3. Choose Pieces That Serve a Dual Purpose
When you're working with limited space, each piece of décor should serve at least one pragmatic purpose. A beautiful art glass bowl can be used as a key tray or candy dish; a vintage wood credenza can be used as storage, display or a base for collectibles or appliances.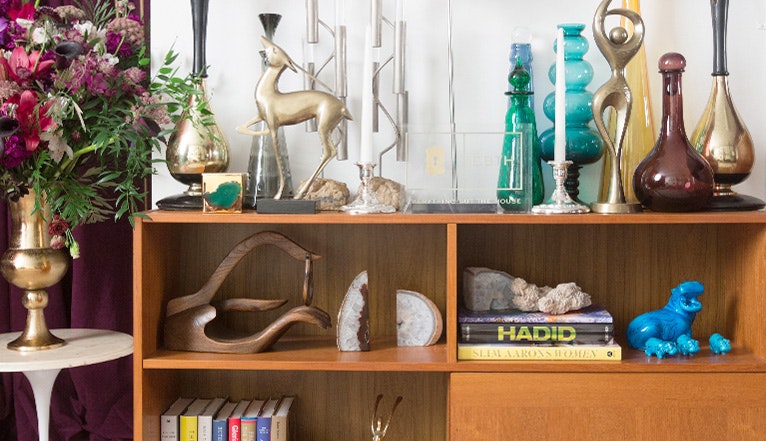 4. Think Outside the Box
Interior design is seeing a trend right now in which dressers and other pieces are converted and used outside of their conventional purpose. Instead of a typical TV stand, we used a vintage walnut highboy dresser with beautiful hidden elements, like a brutalist side panel. As a TV stand it creates storage, cleans up the room and adds an element of surprise.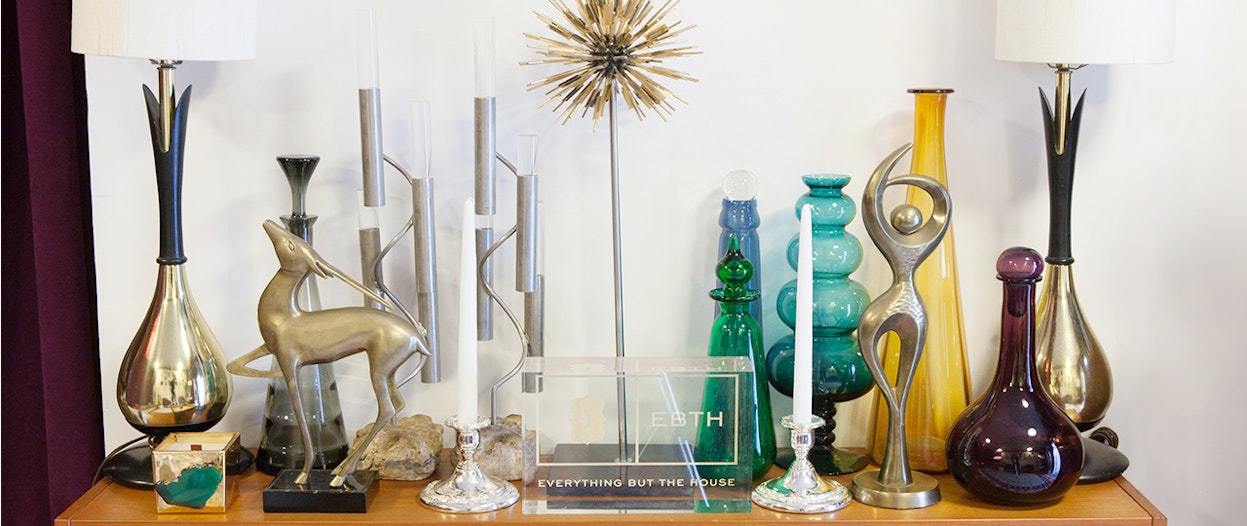 5. Layer With Lucite
Learn to layer like a pro. Pick pieces you can open up and use as storage or as bases for displaying other objects, like a 1970s acrylic magazine rack and a lucite cart. Lucite is great because it allows other objects in the room to be seen (hello, gorgeous rug and dream dresser), and these pieces address design issues without contributing to clutter.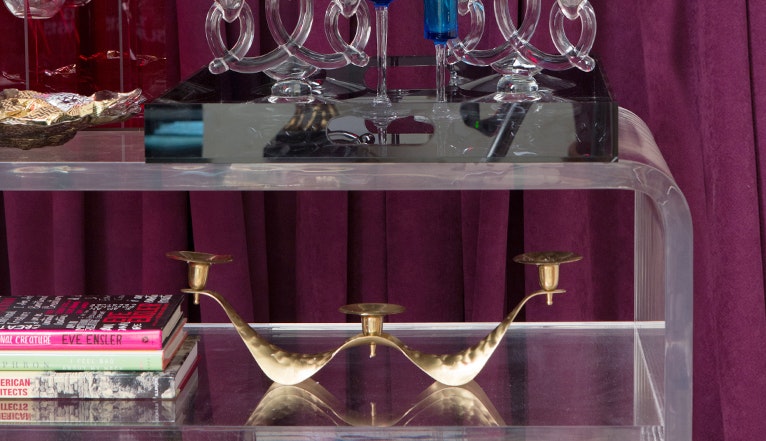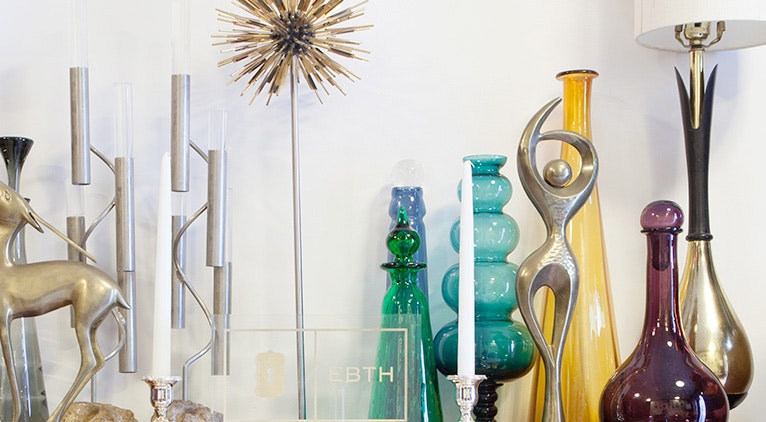 6. Use Art Glass and Metals to Reflect Light
When it comes to what and how to display items on different levels, vary the heights of pieces and pay attention to where light hits in the room. Materials like metal and glass can be used to bounce light, so we chose a collection of beautiful art glass and brass sculptures to bring in some moments of color and light.
7. Customize Vintage Lamps to Fit Your Style
With the low ceiling and draped walls, the only way to light the green room space was through lamps. Vintage lamps are customizable, and you can always alter the piece to fit the décor by dropping the shade or changing the height. In addition to lamps, candlesticks, candelabras and candle holders can give your room a glow, even if your candles aren't lit.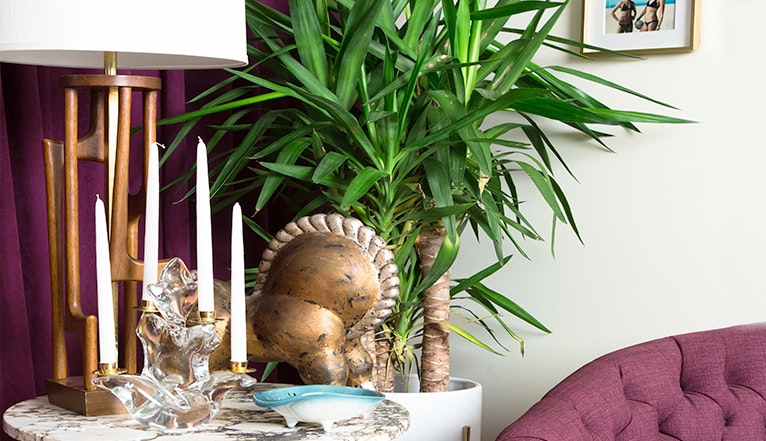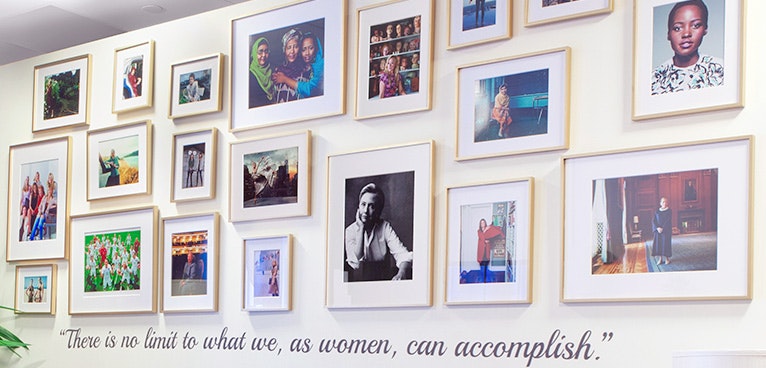 Gallery Wall
After the honorees made their way down an iris-hued corridor to the green room, they arrived in front of a gallery wall featuring 20 previous Women of the Year. This powerful display of individuals representing a diverse range of industries, fields and accomplishments, is the first thing seen upon entering, and intended to create an atmosphere where women can feel celebrated, supported and find common ground. The 2016 Glamour Women of the Year Awards is that place.