By: Jacob Bonta
As society immerses deeper into technology, we lean on computers more often for increased efficiency and accuracy. However, there are still many talents and crafts where tech can't match the power of the human eye. That's where experienced experts like EBTH's Holly Carrier step in. The improved quality of counterfeits makes spotting fake handbags a tricky endeavor, but Holly's wealth of experience examining a wide range of bags helps close the gap to perfection.
Here at EBTH we use a digital authentication application called Entrupy which can tell whether or not the materials, fonts, logos, hardware, and serial number configuration match that of the true maker. Counterfeiters are getting more sophisticated, and sometimes they can trick the authentication tech tools. Not on Holly's watch, though. She helps bump the success rate of Entrupy from 99.01% to an outstanding 99.9%.
I recently sat down with Holly as she discussed the process of authenticating a Louis Vuitton Monogram Speedy Bag: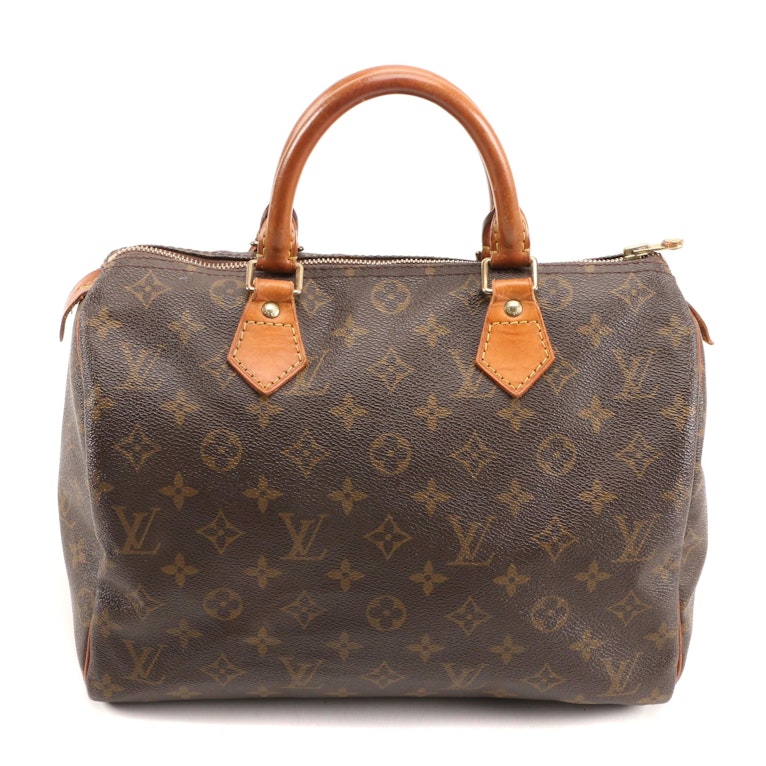 Q: So what's the first thing you look at when trying to decide whether a bag is fake or not?
A: When approaching a Louis Vuitton Speedy I first start looking for key indicators I can see from a distance; the color of the monogram pattern, the finishing on the edges of the leather and the color of the stitching. There are many dead giveaways you can notice before you even touch the bag that will indicate you are looking at a counterfeit. Here are the top things I look for when determining authenticity:
Monogram color:
The monogram pattern should be a warm golden tan color. Often counterfeiter's color will be off, being too dark, too brown or too green. Other times it will have completely different symbols, these are sometimes quite laughable but makes authenticating easier.
Burnished edges:
The burnished edges of the rolled leather handles and leather trim can vary in color based on how much use the bag has seen. Speedy bags feature Vachetta leather, which means it is untreated and will darken over time from oxidation and the absorption of oils. The same thing happens to the burnished edges over time. On a brand new Speedy, the handle and trim edges will have a burgundy tone varnish, that is why you often see a red PVC coating along the edges of the handles and trim on many counterfeit bags. You may also see faked warm honey coloration of a "worn-in" handle on some new counterfeit bags.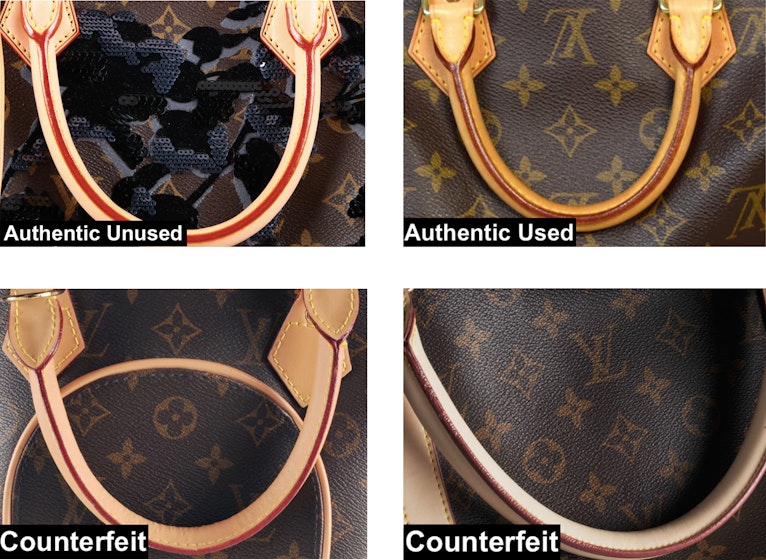 Stitching:
The stitching should always be even, straight and consistent. Look for inconsistencies, a good place to find these is along curves and edges. The stitching should be a mustard yellow, often the reproductions will have bright yellow stitching.
Q: Are there any intricate details that you comb-over in the process?
A: After my initial once over, I start looking at the finer details of the bag. Speedy bags are made with a single cut of material, therefore the monogram print on the back of the bag will be upside down. The monogram print should always match up along the sides. Another thing that every Louis Vuitton Speedy should have is a date code. This will be a six-digit code that includes two letters followed by four numbers. Bags should be lined in brown canvas fabric, counterfeits will be lined in a variety of materials.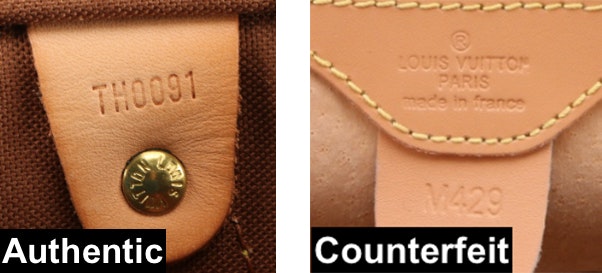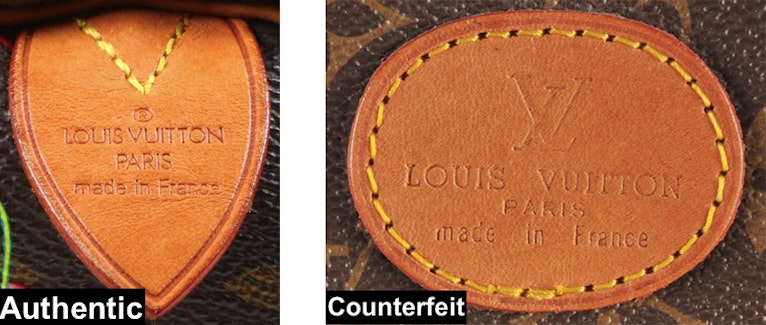 Q: Is there a specific detail that fakers can never seem to get right?
A: What usually gives away a really good counterfeit are the brand stamps on the labels and hardware. The fakers never seem to get down the subtle perfection of Louis Vuitton's mixture of serif and sans serif fonts. Most design houses tend to stick with one or the other, but almost every Louis Vuitton bag has a mix of both. Spacing and depth of stamps are also something to pay close attention to, the lettering should be evenly spaced. A counterfeiter's stamp is often too shallow or has uneven depth throughout the stamping.