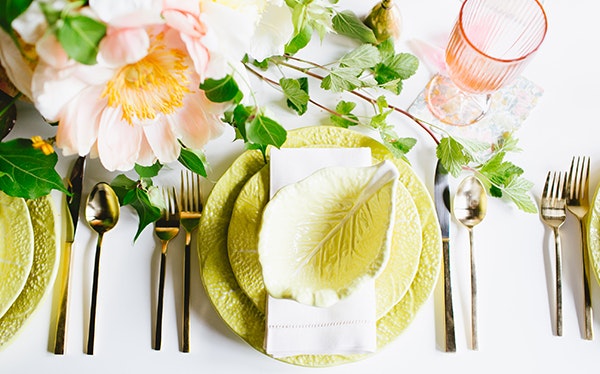 "Fresh takes on the classics" is how Cassandra LaValle positions her expertly curated blog Coco Kelley, where you're just as likely to find advice for how to nail a wedding registry as you are for redoing an entire space inspired by one Moroccan room. When it comes to entertaining, however, LaValle is a master of the tabletop. Whether the occasion is a Scandinavian Christmas dinner or the spookiest Halloween place setting, LaValle's tips do more than make the ambiance — they keep the conversation going and the party fun!
1. Find a source of inspiration.
This could be anything, but I'd recommend starting with something tangible that you want to place on the table or make a part of the meal. You could build your look around a recent trip, a recipe or one particular object. Use this piece to inspire the whole table!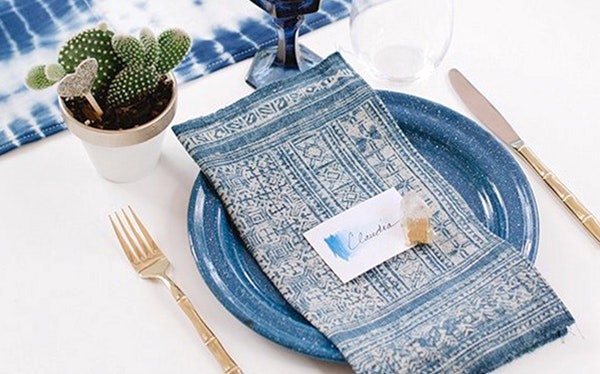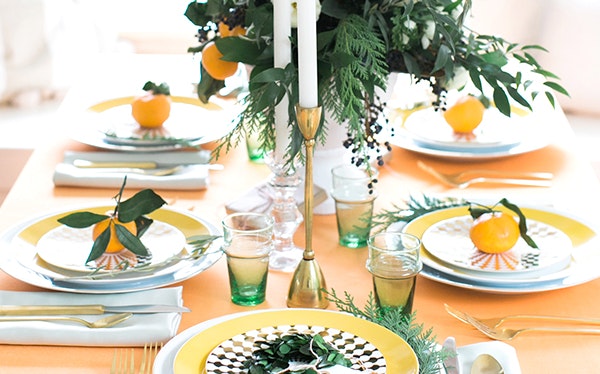 2. Create your palette.
Sometimes the colors only come out in the centerpiece, other times through the china or linens. If you're a pro – it's a combination of all three! But don't stress out thinking every piece has to tie together.
3. Introduce something whimsical.
This is where vintage hunting comes in handy! I often find objects that help create a fun moment on my tabletops that speak to my personality. Using objects outside of their literal purpose is a favorite trick! Think about planters or sculptures as centerpieces or ways to mark place settings. If you find an object you love, get creative with how to use it in a new context.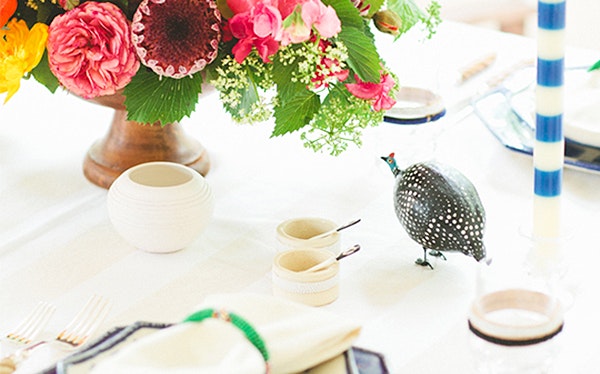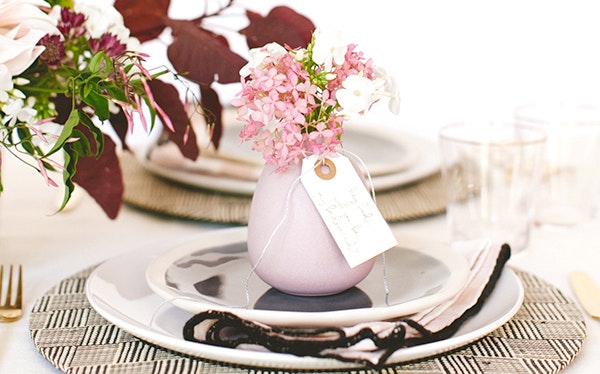 4. Add something personal whenever possible.
Not every dinner party needs to have this element, but I like being able to include a thoughtful moment in my tablescapes. It can be as simple as a name card on each plate, or as lavish as a gift for each guest!
5. Keep the centerpiece simple.
It'll get moved anyway! I love a huge vase of tulips or a big branch cut straight from our garden. Leafy vegetables like kale and cabbage can also make for a lovely and simple flourish for the table. When the meal starts, you can move them out of the way. If you do want a centerpiece that sticks around for the meal, make sure it's low enough for people to see each other.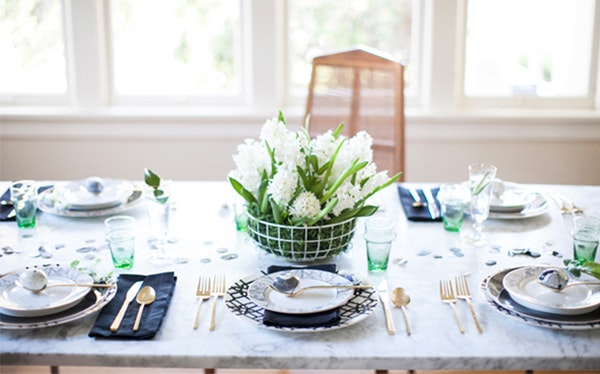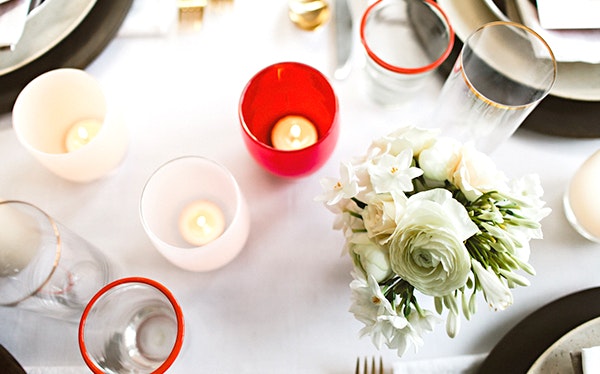 6. Candlelight works wonders.
I keep simple votives or tapers at a the ready for a little mood lighting. As the night goes on, the lights get lower and the candles create a warm ambiance. Colorful tapers are also a great way to bring in your palette!
7. Layer the pattern!
While I'm not one to get too crazy with my home decor (lots of neutrals here!), the tabletop is another story. Here's your chance to get outside your comfort zone with color, pattern and personality! Get a little funky with your dishes and linens. The trick is all in layering different scales of pattern together.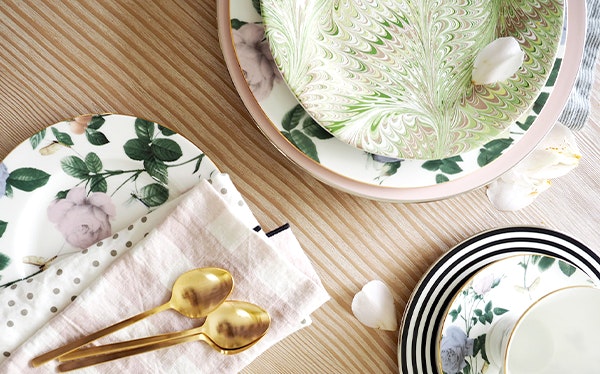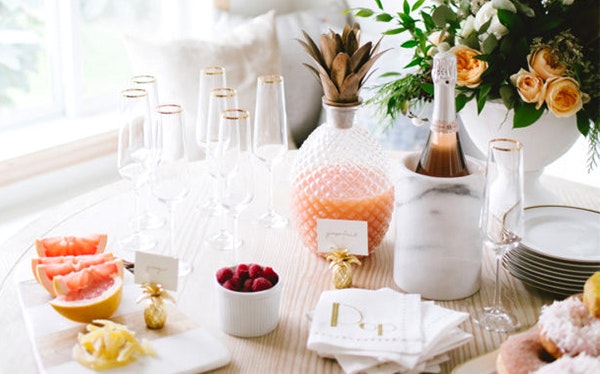 8. Use the good stuff.
Life's too short to hoard your china in the cabinet and use once a year! Breaking out your best items, or even mixing them in with more everyday settings, will make guests feel extra special.
9. Match your menu.
While this tip is not one that always comes naturally, I like to consider my menu when building a tabletop. Sometimes it's the inspiration for the evening (Moroccan? Italian?), and sometimes it's a secondary element. Either way, considering color and mood when you put together your menu for the evening can help the meal feel even more cohesive.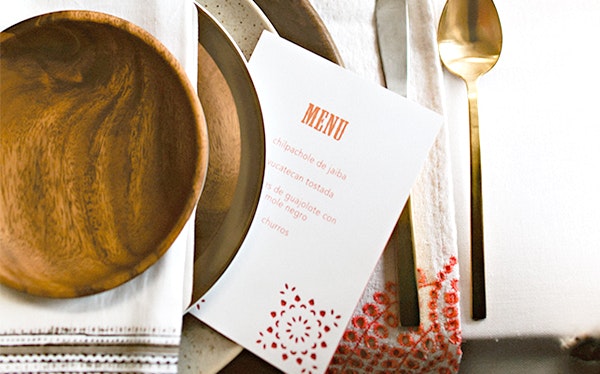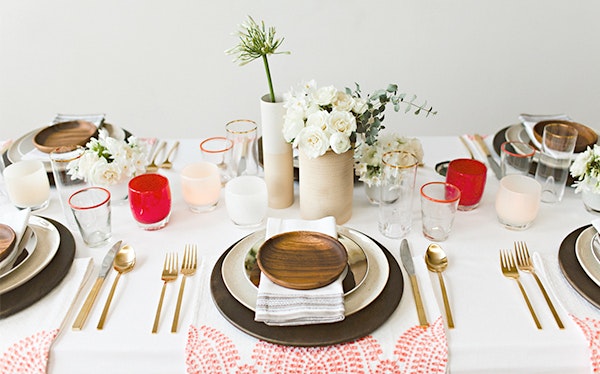 10. Use the rule of six.
I once read that six is the perfect number for a dinner party, and I have to agree. It's just enough people to keep the conversation lively while not breaking the table into two groups who are only talking to each other. Of course…rules are made to be broken. Using all of the other tricks above will always help keep the evening intimate, no matter what size!