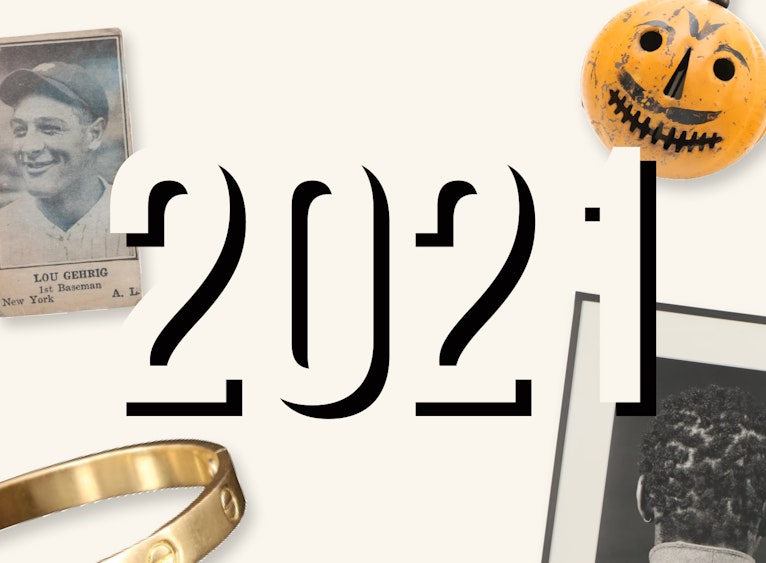 Over the last 12 months, many changes have taken place around EBTH. We celebrated our 15th anniversary, aired the first season of our show on HGTV, but most importantly, continued to make strides in bringing everything uncommon to our marketplace. Uncommon doesn't just mean rare – that would be too easy – it represents the niche, uniqueness, and individuality of an item. In keeping with this spirit, we took a look back at the most uncommon items that came through our doors in 2021.
Halloween Lantern
Halloween garnered popularity in America thanks to companies such as the Toledo Metal Sign Company and their production of spooky holiday decor. This piece was produced in the early 1900s and was among the first ever Halloween decorations to be made in America, helping to engrave the holiday within American culture. Metal lanterns were originally attached to the end of a long pole and carried during children's parades on Halloween. This piece in particular is a great example of just such a lantern. It has retained much of its original hand-painted detail making it a highly sought after collectors item.
Henry Francis Dupont's Cabinet
This stunning cabinet was part of the collection of industrialist Henry Francis Dupont, and dates back to the middle of the 17th century. The piece once stood in a corridor of Dupont's 174 room estate in Winterthur, Delaware which housed his collection of fine decorative objects. The piece has detailed marquetry designs in walnut and mulberry, and rests upon a gilt stand that was a later addition. Cabinets of this manner were often used to store rarities and oddities from around the world and were often referred to as a "cabinet of curiosities".
Gruen Gifted Watch
Fred Gruen took control over the D. Gruen and Son watch company after his fathers death in 1911. Fred expanded the family business by moving its operation to a large pasture outside of Cincinnati and introduced new models of watches into production. The newly named "Gruen Watch Company'' produced some of its most famous watches in Cincinnati including the "Drivers Watch'' and "The Curvex". This watch, with its array of 412 diamonds totaling 13.73 carats, represents Freds love for his wife Matilda and fine craftsmanship of The Gruen Watch Company.
Lou Gehrig Baseball Card
This card was discovered in an attic by our team while preparing for a routine estate sale. The owner had recently inherited a house from her grandfather and had no idea what was stored in the attic. It was there that our team uncovered a collection of baseball strip cards dating back to the 1920s and 30s. The collection contained famous players like Babe Ruth, Ty Cobb, Walter Johnson and many more which had been tucked away for decades. Strip cards were originally sold in sheets meant to be cut or torn along a dotted line, hence the name "strip cards". These somewhat crudely drawn cards have gained popularity and are a chance to collect some of the most sought after baseball players.


Brooke Astor's Dressing Table
Brooke Astor was a renowned philanthropist and champion of all things New York City who is remembered as a legend of New York society. Brooke owned one of the most prominent apartments in New York City located at 778 Park Avenue. The penthouse was known for its opulent decor with rooms designed by legendary interior designer Albert Hadley. This Edwardian kneehole dressing table was first sold at Sothebys in 2012, then by EBTH this past year. The table was a wonderful opportunity to own a piece of New York cultural history that once lived at one of the city's most prestigious addresses.
1973 Toyota FJ40
This 1973 Toyota FJ40 Land Cruiser was the most followed item on EBTH in 2021, and for good reason. The iconic vehicle had been completely restored and painted a light blue color that oozes cool. The first version of the Toyota J series was created for Japan during The Second World War as a response to the American Jeep. Post-war the FJ grew in popularity for its rugged utilitarian uses and remains one of the most desirable 4×4's of all time.
First Year Cartier Love Bracelet
The iconic Cartier Love bracelet was designed by Aldo Cipullo in 1969 inside the Cartier workshops of New York City. The piece was controversially modeled after medieval chastity belts and stood as a symbol of eternal love by the need for a special screwdriver to remove the bracelet. Originally released in 1970, the 18k Love Bracelet quickly became a hit with celebrities like Elizabeth Taylor and Steve McQueen locking themselves in. The bracelet pictured here was a first production piece dawning Aldo Cipullo's signature and stamped with the 1970 production date.
1967 Mini Cooper
A true icon of 1960s British pop culture, this 1967 Mini Cooper was one of our most followed items on our site in 2021. The Mini Cooper was first introduced in 1959 as a response to a fuel shortage from the 1956 Suez Crisis that made larger vehicles unpopular. Over time the Mini Cooper has grown as a quirky pint size vehicle but should not go unrecognized as a reinvention of the people's car.
Hagenauer Mirror
This Art Deco Period mirror was designed by Karl Hagenauer and produced in Vienna during the 1930s. Karl Hagenauer was a goldsmith whose work helped to define what we now associate with the Art Deco style. Constructed out of solid brass, the unique mirror displays stylized animal, human, and natural element motifs in Hagenauer's signature African inspired style. This piece is a beautiful example of the Art Deco movement and is definitely one to remember.
Abercrombie Horse
Founded in 1892 in New York, Abercrombie & Fitch was originally a manufacturer of high-end outdoor sporting goods. Abercrombie has sold a variety of different products through its history but none as endearing as this leather horse footstool. The stool was designed by Dimitry Omrersa and was featured in the Abercrombie catalog throughout the 1960s and 70s. This fine leather crafted friend is a fun piece that is sure to be a conversation starter in any room.
Robert Mapplethorpe Photograph
This important silver-gelatin photograph taken in 1983 by renowned photographer Robert Mapplethorpe, features a portrait of artist and cultural activist Jack Walls. Capturing the back of Walls' head, this was a perspective Mapplethorpe adopted for many of his portraits in the 1980s. Walls lived with Mapplethorpe and maintained a relationship with him until Mapplethorpe's untimely death in 1989. As demonstrated in this photograph, Mapplethorpe was interested in presenting his subjects with the greatest amount of perfection he could achieve, with a focus on symmetry, structure, and harmony. As a true formalist, he features the pure formal qualities of his subject, with an attentive emphasis on texture, shape, lighting and iconic perspective.
Grandma Moses Painting
The Sycamore Farm, a painting by the renowned American Folk artist Grandma Moses, was painted in 1944 and features a farm she chose to paint multiple times, rendering the subject at different times of the year. The work was previously exhibited at the Minneapolis Institute of Arts and formerly housed in the collection of the Galerie Sont a Ten in New York. Grandma Moses executed the painting in her signature style, with a schematic rendering of an elevated perspective, a flat application of a rather primal palette, as well as precise brushstrokes.