The EBTH Landmark Sale marks a significant milestone in the history of EVERYTHING BUT THE HOUSE. For the first time in company history, EBTH is proud to feature a remarkable collection of our most rare and valuable items. Highlighting this sale is a well-documented rediscovered original painting by a French master, Jean-Baptiste-Camille Corot titled, Landscape by the Sea. Corot is regarded as a crucial figure in landscape art history, his work simultaneously referencing the era's Neo-Classical tradition while anticipating the plein-air innovations of Impressionism. The great painter Claude Monet exclaimed in 1897, "There is only one master here—Corot. We are nothing compared to him, nothing."
"Of course, there are other sales that have been held in this industry's history with valuable works," says EBTH Partner and Co-Founder, Brian Graves. "However, I would argue that none have been so accessible to a worldwide audience of vintage enthusiasts. The fact that we continue to offer items of this caliber, starting at $1, with no reserve and no buyer's premium is setting a new precedent for making this industry transparent and approachable."
In addition to the Corot artwork, there is an outstanding selection of fine jewelry, featuring a 14 karat two-tone gold, hand-knotted double strand Akoya pearl necklace with a pendant brooch of diamond and rubies. The decorative arts category contains original historical artifacts and pieces such as an early 20th century weather vane cast in the figure of a rooster. Other notable items include an oak panel table carved by William H. Fry, from the home of Eisenhower's Secretary of Defense, Neil McElroy whose wife, Camilla Fry, was a relative of the artist. There's a work by renowned Boston artist, Emily Burling Waite titled, La Festa di Costume which was among a collection of unpublished works found in a shed of her childhood home 33 years after her death. And, because we truly curated from coast to coast: you'll find a pair of mid- century tufted chairs from the home of Marilyn Monroe, originally purchased by Paramount Studios.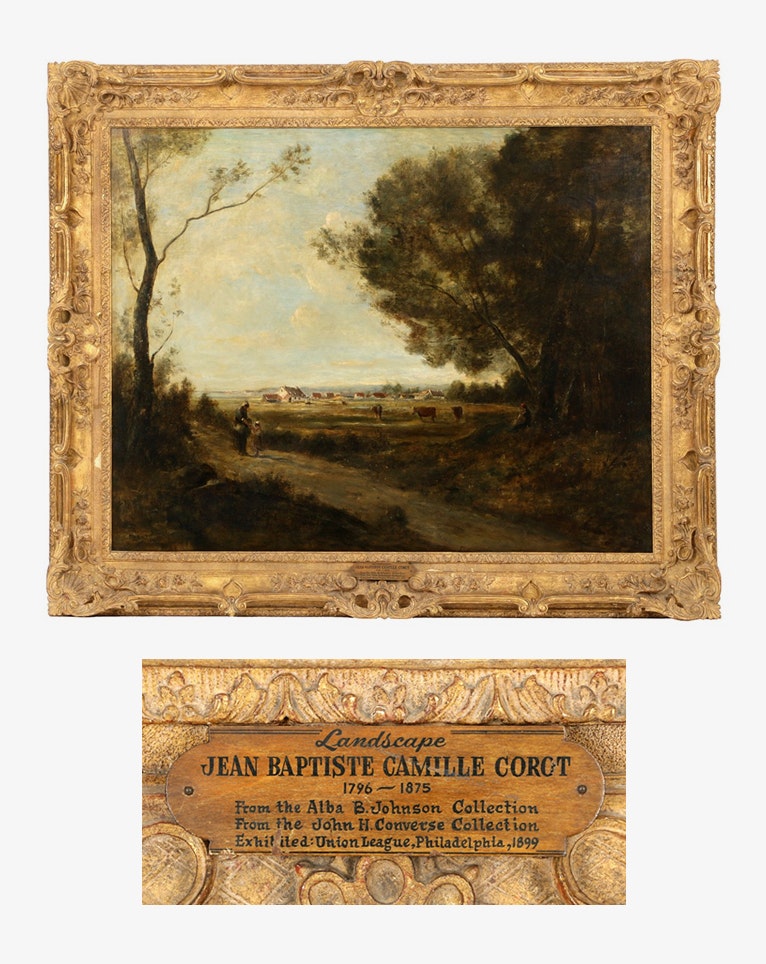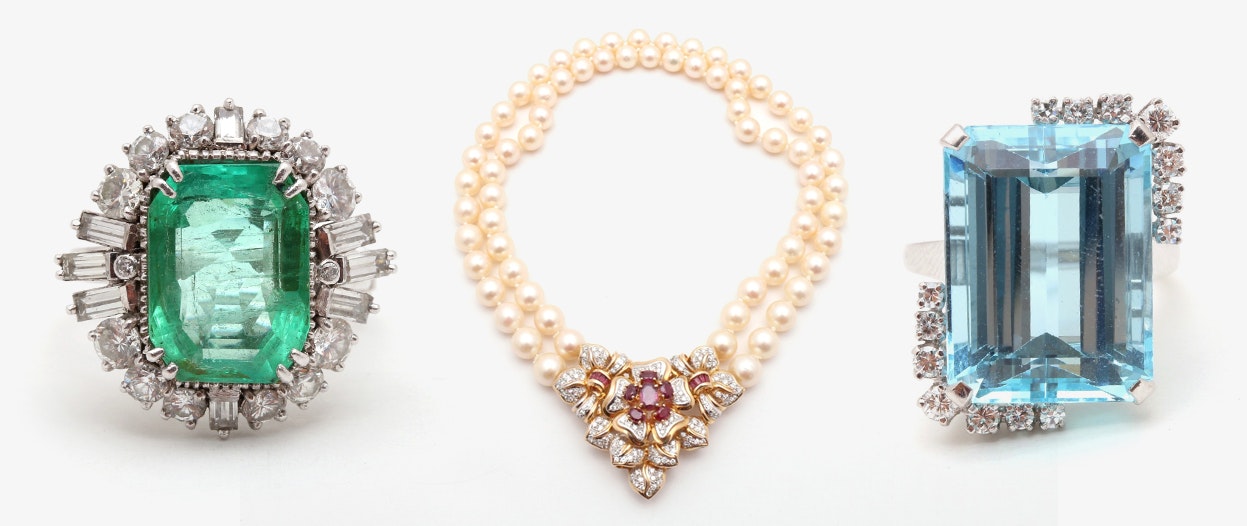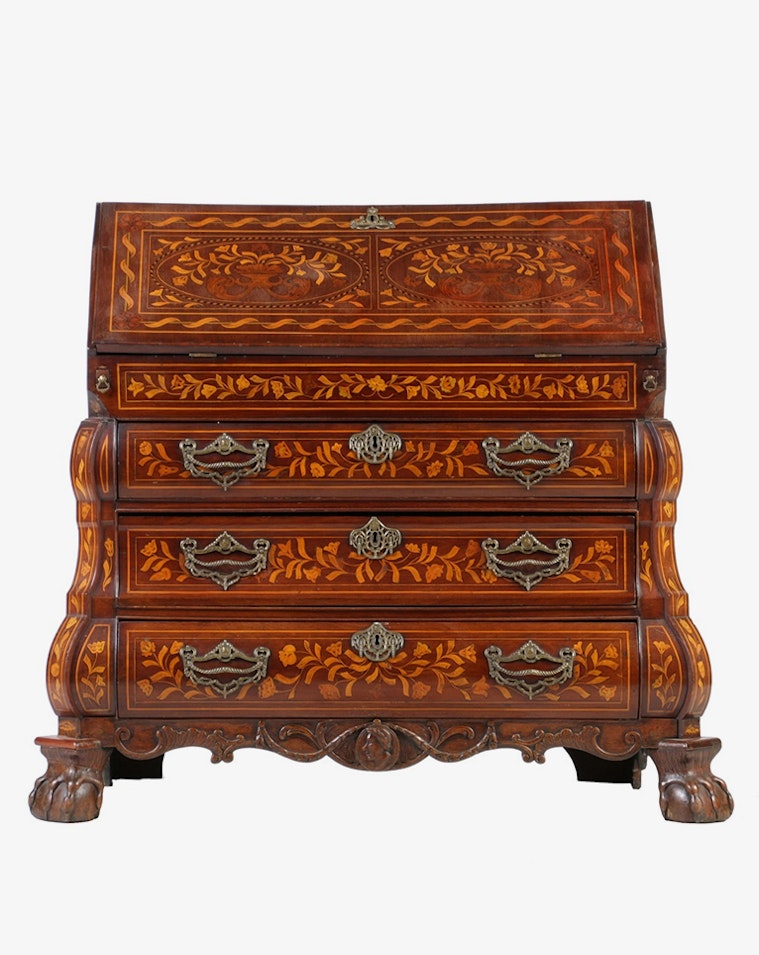 We spoke with EBTH Co-Founder, Brian Graves, Director of Artwork, Graydon Sikes, and EBTH Gemologist Sindur McRedmond about their personal highlights in the Landmark Sale.
What pieces stand out for you in this collection?
Brian: Well, obviously the Corot is something we couldn't be more excited about handling. And equally exciting is the fact that it is such an excellent, well-documented example of his work. The sale has a very diverse collection of investment quality art from both American and international artists ranging from traditional to contemporary. One of my favorites is the painting of a cart by Anton Mauve. I've always appreciated artists who can articulate candid scenes of social realism.
Graydon: Other outstanding American and European paintings include a top example by Carl Krafft, Hickory Hill, depicting a winter sledding scene in greater Chicago. Krafft was an important Illinois impressionist painter. The highest auction records of note for Krafft are both winter scenes of the very same subject, and the example we are offering stands up to both of them.
We have a print titled Petunia, by Edna Boies Hopkins, who was one of the few American artists that worked extensively in the woodblock printmaking medium during the 20th century. Given the meticulous process, only a handful of artists undertook this medium as their primary focus. All of her woodblocks were produced in a very limited fashion.
There is a sonambient sound sculpture by Harry Bertoia. Bertoia became widely recognized for his sculptural work that incorporated sound. It is meant to be touched and used!
Sindur: There are so many to choose from! There is an amazing multi-strand choker necklace with polished rondelle emerald beads. The beads are adorned on either side by brightly polished, yellow gold flowers that are encrusted with diamonds. Another highlight is a platinum 7.41 carat emerald and diamond cocktail ring, framed by diamond baguette and round brilliant cut diamonds.