"I started going abroad to Paris when I was in seventh grade and I've been lucky to live in some wonderful cities around the world — Hong Kong, Honolulu, London, New York. I had an older set of friends with fantastic taste, and they taught me the ropes of how to spot a great piece. I wandered the markets with them, lots of antique stores and galleries here and there, and I still do that to this day. I've collected pieces from all around the world.
There are two great paintings in the sale. The Ashley Longshore, which has a name I can't repeat here, but we'll call it "Sister Kate." It's Kate Moss in a nun's habit. Ashley has a personality as big as life, and this is the key focal piece that often gets photographed. When I met her, I walked in and liked her immediately and asked which piece I should buy. She said, "Well you need this piece." The actress Blythe Danner has it too—she's a huge collector of hers. Ryan Reynolds has one as well. Then the Mark Beard oil—"Dans Le Serengeti." He's interesting because he paints in personas, and each has a completely different style. This persona is Hippolyte-Alexandre Michallon, whom Beard imagines as one of the grand Parisian painters of the 19th century. The frame is original as well. There is also a large Art Deco mural, from a wall in Buffalo that was part of FDR's federal works program for artists."
Everything I buy is specifically tailored to one home. When I decide to move, as I did recently, it's time for new things. What you see here fit perfectly in my last home."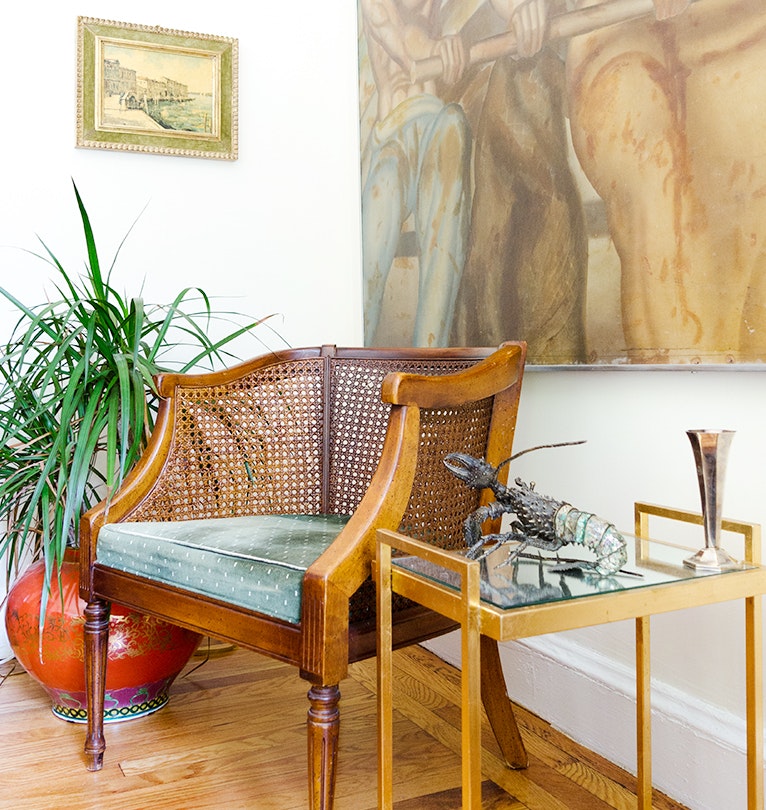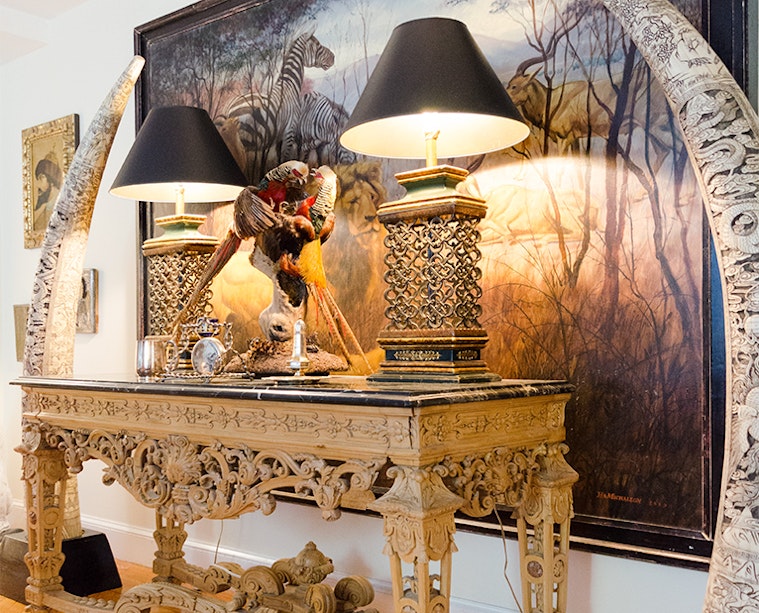 What are some furniture highlights?
The Maison Jansen pieces: the bronze console table and the carved oak baroque table, which is just phenomenal. They did everyone from the Duchess of Windsor to the greatest style and fashion legends of the 20th century.
There are lovely smaller art and decorative pieces as well.
Yes, I like the Ivan the Terrible oil. The frame is custom carved. An older Russian once recognized it and said it looked similar to an oil on board he saw at an opera. And the antique Russian icons; I bought them in Istanbul at the Grand Bazaar. The silver gong is from London and I always meant to have it restrung. The bamboo work in silver is fabulous.
Where did you find the Hindenburg photo?
That I bought from the largest collector of zeppelin airship memorabilia some time ago. He had china from the Hindenburg, things like that. This is one of the original photographic images of the disaster.