"I was moving out of my apartment and into a new space with my boyfriend when one of my best friends told me about EBTH. She used the service in Manhattan and it sounded perfect for what I needed; I only moved around the corner, but moving anywhere in New York is a nightmare — you have to reserve the elevator, pay insurance, sort through everything in a small space. There were certain things I wanted to keep, certain ones I wanted to donate, and I didn't just want to trash anything because there are some beautiful collectors pieces that I couldn't bear seeing go to waste. EBTH's service is great because it's a one-stop shop that allows you to remove everything while giving buyers access to the places you've been through your collection. It's great; everything finds a home.
I took this past year to slowly start going through and editing my life. I had been in my apartment for four years, and being a clothing designer you hang on to things and accumulate so many objects that you think you need. My boyfriend is the opposite — he has very few belongings and each one has its place. So, moving into this new space where everything was set up and the furniture was new and made for the space was the perfect excuse to purge. One of my favorite pieces that I'm parting with is the silk cream lamp with fringe and red flowers. It's from ABC Carpet and Home and was a gift from my mother. I had it with me in a few different apartments; it's so elegant. It just doesn't work with the new aesthetic, which is a little less girly and feminine, to say the least. I'm sentimental, but I made sure to take the time to say goodbye to certain things. It's all a positive journey and an exciting time to move."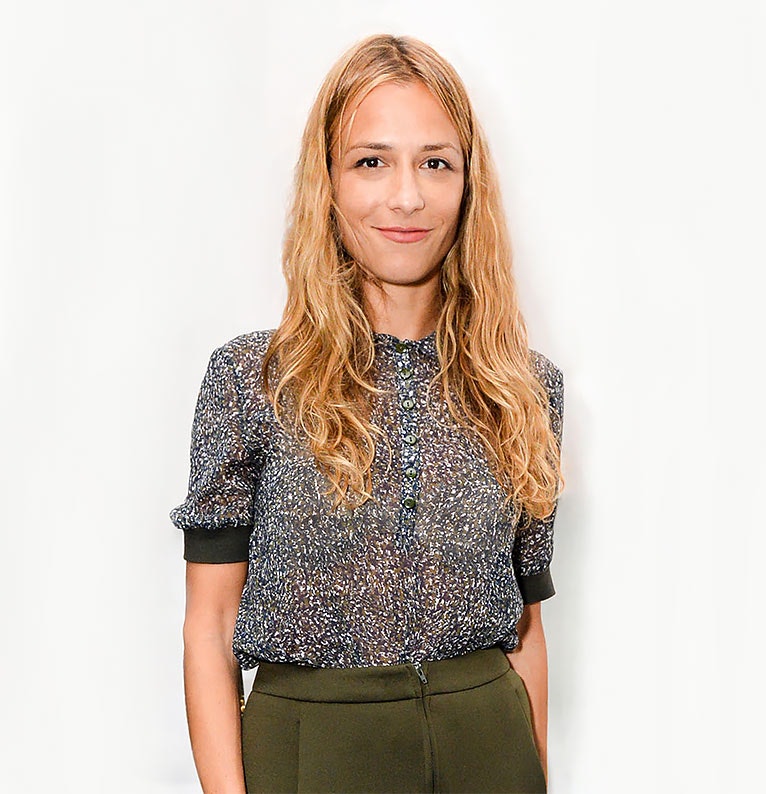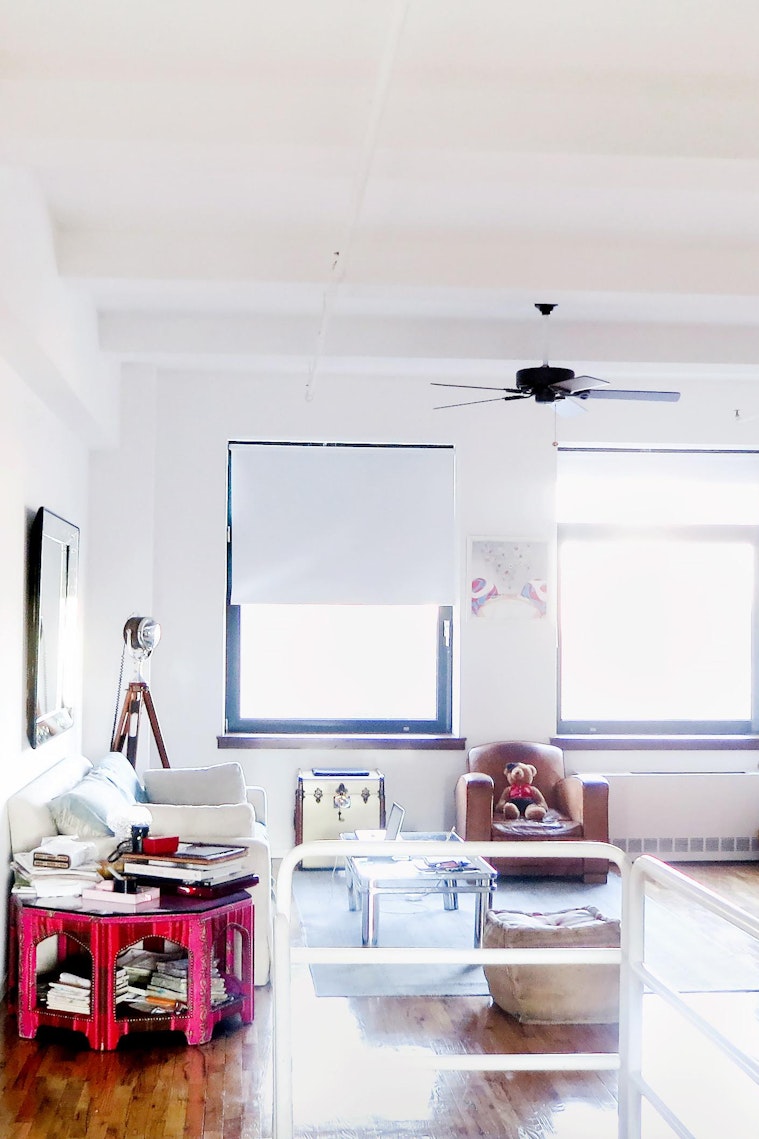 Tell us about some highlights of the collection.
The denim chaise lounge is from ABC Carpet and Home; that's a recent purchase that just sadly didn't make sense moving forward. The dining table is from ABC as well, and that was great because it kind of had that lofty feel, but with the chrome legs it made it a little more industrial and less country. The wrought iron bed with the flowers painted on it is also from ABC. Funnily enough, I went to visit my little sister when she was at college, and she never told me, but she'd bought the exact same one for herself.
Which piece has an interesting story?
That mirrored coffee table was found by one of my best friends, Happy Massee. He is a super talented set designer and worked on a movie called Two Lovers, with Gwyneth Paltrow and Joaquin Phoenix. He ended up giving me that coffee table after filming.
I went through a phase when I first had my store and I loved vintage foreign film posters from different countries with my favorite actresses. That one is not necessarily a favorite movie, but I just loved the look, the font, the style and the colors.
There's quite a selection of end tables!
I collected them throughout the years; they're functional and nice looking and serve as seats, tables and storage: when you're in New York, you don't have the luxury of space! The little Moroccan-style one I got visiting my little brother and sister at camp one year in Maine.
What about the hula hoops?
The hula hoops! A friend of mine was like, "It's such a great workout, you have to get them!" We were on holiday somewhere talking about being healthy upon our return. I'm not the best hula hooper, but it was fun.