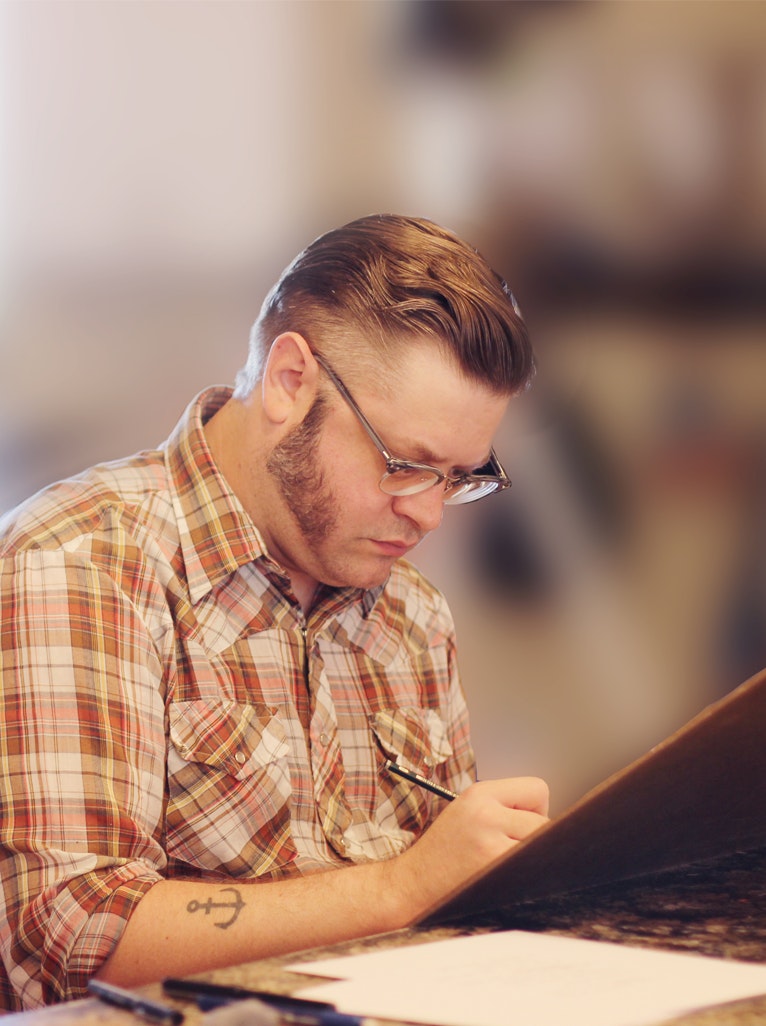 "The Walking Dead" co-creator Tony Moore, whose hand is behind some of the world's most beloved comics, from "Ghost Rider" to "Punisher," to "Batman" and "Deadpool," still resides in the Midwest, not far from where he and middle school friend Robert Kirkman drew the early sketches for the zombie apocalypse story that would become a cultural phenomenon. Until recently, Moore's creative process was confined to his garage and an apartment that he and his wife rented as an auxiliary office space. While deliberating over whether to build a home that could host both their personal and professional lives, the Moores found their dream house — a property in the countryside that bordered on a horse farm. "I wanted to expand on my workspace, do a lot of printing in-house and finally bring everything under one roof," explains Moore, of what compelled them to invest in the real estate. The home's previous owner, who dreamt of becoming a rock star, designed the space with a working recording studio, customizing the entire build-out with top-of-the-line equipment, including an Avalon Designs Pure Class A Preamp, a set of Genelec Studio Monitors, a pair of Neumann U87 Professional Recording Microphones, and a Vintage Shure SM7 (the same microphone model used to record the vocals for "Thriller"). "We thought the items would be better off in the hands of people that can put them to use," says the artist, who is selling this equipment as the first phase of a renovation for his new studio.
As part of the renovation, the recording studio's control room will be stripped and joined with the former performance room to create a vast, open workspace. "It's a blank slate for me," Moore explains, "I'll be able to set up a screen press, printers, a laser engraver, and the negative printers for my silk screen stencils." The illustrator, who also included rare items from his archives in this sale, typically spends about a week working on one comic book cover — so a studio in which he can be productive is key. "I might catch fire and get through a cover in a few days," he notes. "Once I hunker down and get into it, it will take me at least a day to draw the cover and then probably another day or two to color it on the computer. Then there's the layout approval process with the editors, which also takes some time." His innate familiarity with the creative process is why Moore is eager to see the recording studio equipment land in good hands. "These tools don't benefit me and I hope to get them to those who can make good stuff with them — from one creator to another."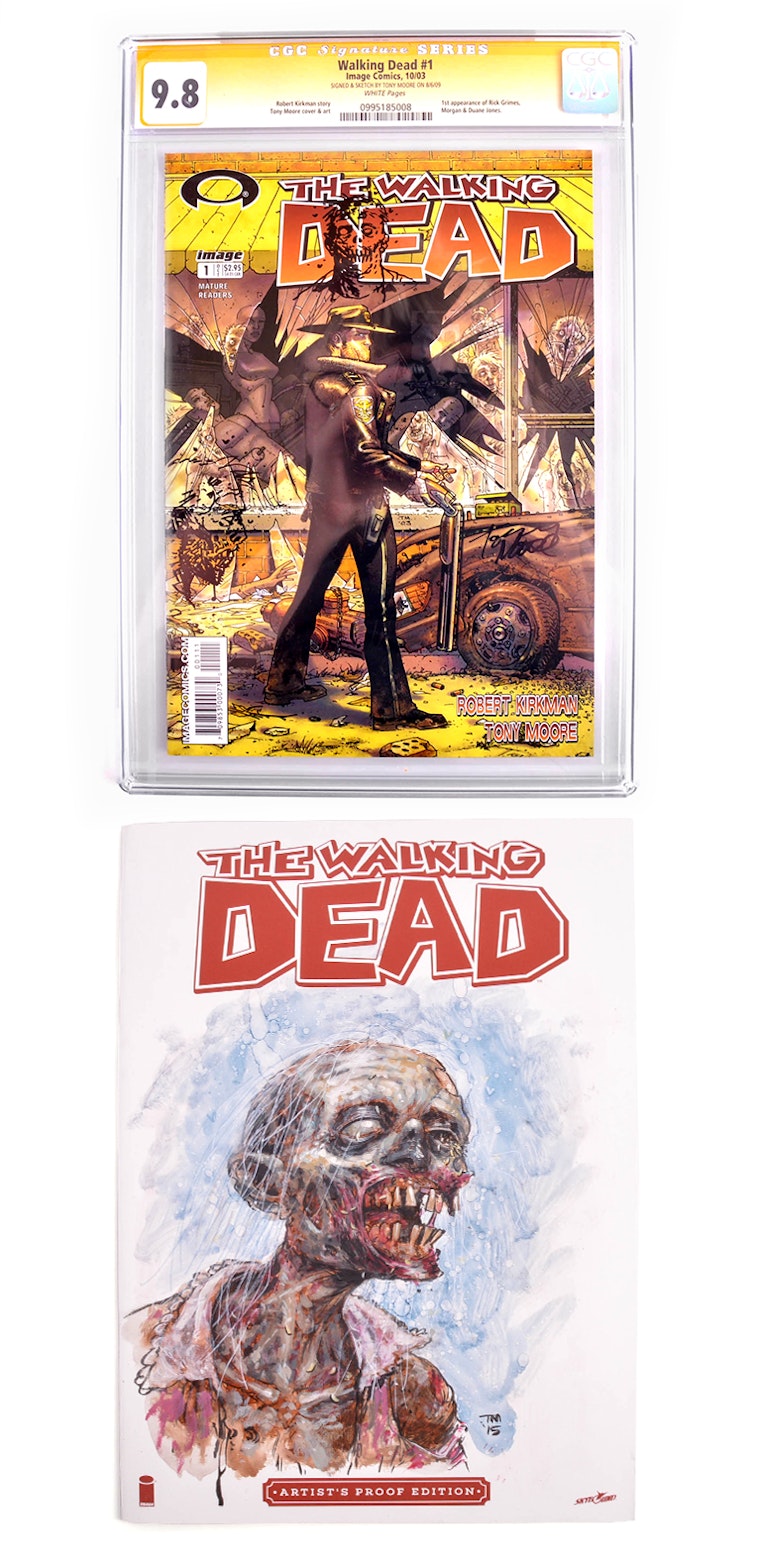 Which pieces from your own collection are really special?
The signed, sketched and graded "Walking Dead" No. 1 is from the printer's crate of the first "Walking Dead" issues sent to my house around October 2003. Back then, I was taking them to conventions and selling them for $3 a piece, and I thought they were all gone. One day my wife and I were cleaning out the garage and found a box of long lost No. 1s. I sent a handful into the CGC comic grading service and I got several back with really nice, high grades. This one is sketched on twice and signed.
Another rare piece is the 11 × 17 "Walking Dead" Artist's Edition that's got a color painting of a lady zombie's face on the front. They recently printed 500 blank ones and gave them all to me. To date, I've only painted 13. They've never been sold anywhere; it's a one-of-a-kind piece on a book that's pretty rare to begin with.
What other pieces are special to you?
There is a very large painting of a robot that's actually from my BFA graduation show at The University of Louisville. I had the show, but I actually got offered a job before I could complete my BFA.
What comic book character made the biggest impact on you?
Batman, for sure. The drawing I created exclusively for the sale was pretty much Frank Miller's version of Batman from his Dark Knight series; a flash forward to an older version of Bruce Wayne trying to deal with a new world. My mom bought it for me for my 10th birthday and when I read it, I thought, "This is brutal." This wasn't Adam West's Batman and that's what made it so cool — it was gritty and bloody and heartbreaking. That book changed the tone of comics for about 30 years and impacted creators for a couple generations. I just happen to be one of them.
What's it like to be a part of the cultural resonance of "The Walking Dead?"
The instant something gets made from your comic that's beyond the actual comic it's euphoric and surreal. To know that it's had a deep effect on millions of people I will never meet is really cool and an honor. When I first started drawing, I treasured the comics that I loved and that were super influential to me. One of the things that has always motivated me to do the best work I can is the thought that it could be some other kid's first comic. It could be the thing that gets another kid super excited, so I better make it good.