Armed with the three tools that he can't cook without — a cast-iron pan, a Microplane, and a lighter — chef Sam Talbot crafts signature iterations of comfort food from his chef's table — a repurposed chicken coop at Brooklyn's Pretty Southern. Housed in a 19th century building, the new restaurant, which follows Talbot's philosophy that delicious, decadent food can be made from clean ingredients, features a glass window that separates the kitchen from the restaurant, inviting diners to "See where all the magic happens."
On the other side of the window, a different kind of magic takes place. Collected vintage tableware, exposed brick, and photos of Basquiat, Bob Marley and Peter Tosh are all elements of a design philosophy that Talbot considers comfortably inviting, simple and chic. "I love when things are mismatched, yet feel orchestrated and purposeful," says the chef, whose inspiration for Pretty Southern's interior comes from his own home, filled with plants, succulents, and collectibles from over 42 countries of travel. His attention to detail without being overly fussy is realized in the restaurant's eclectic collection of 1940s silverware sourced from an estate sale in upstate New York, vintage plates from an antique shop in Greenpoint ("My secret store where I buy my plates for two dollars a pop"), and a carefully curated playlist which he swears by. "If you have good music and delicious food," Talbot explains," the rest should come together pretty simply."
A recipe for magic? Perhaps. But according to Talbot, who shared an exclusive recipe with us from his new book, 100% Real, it's just "Southern hospitality at its finest."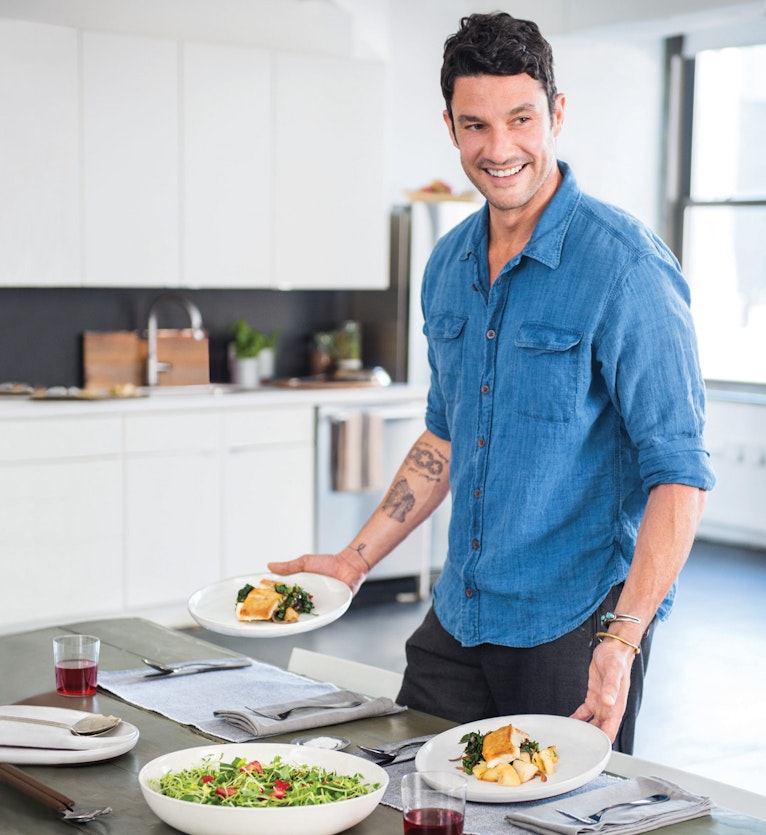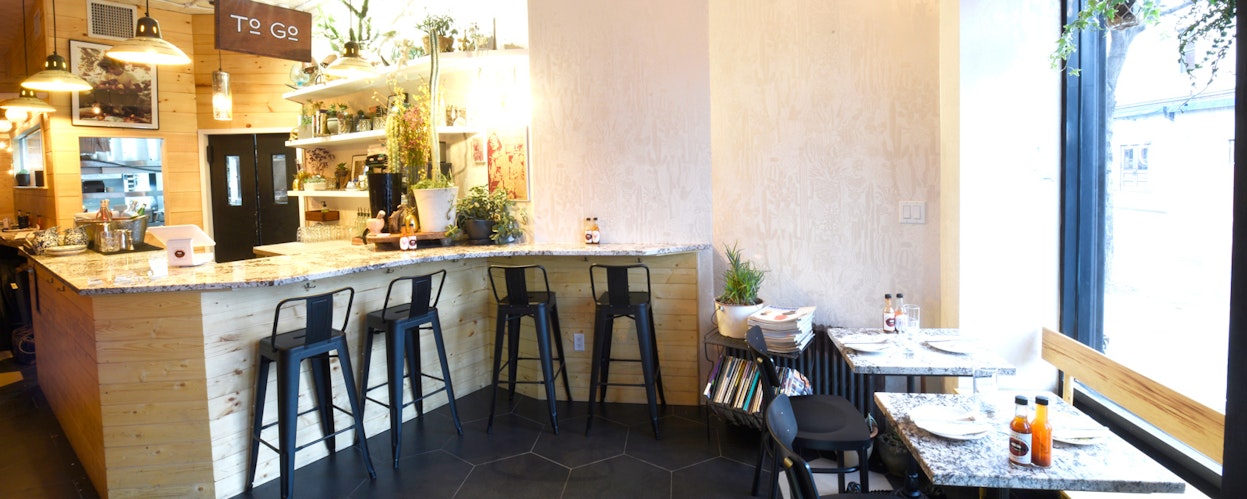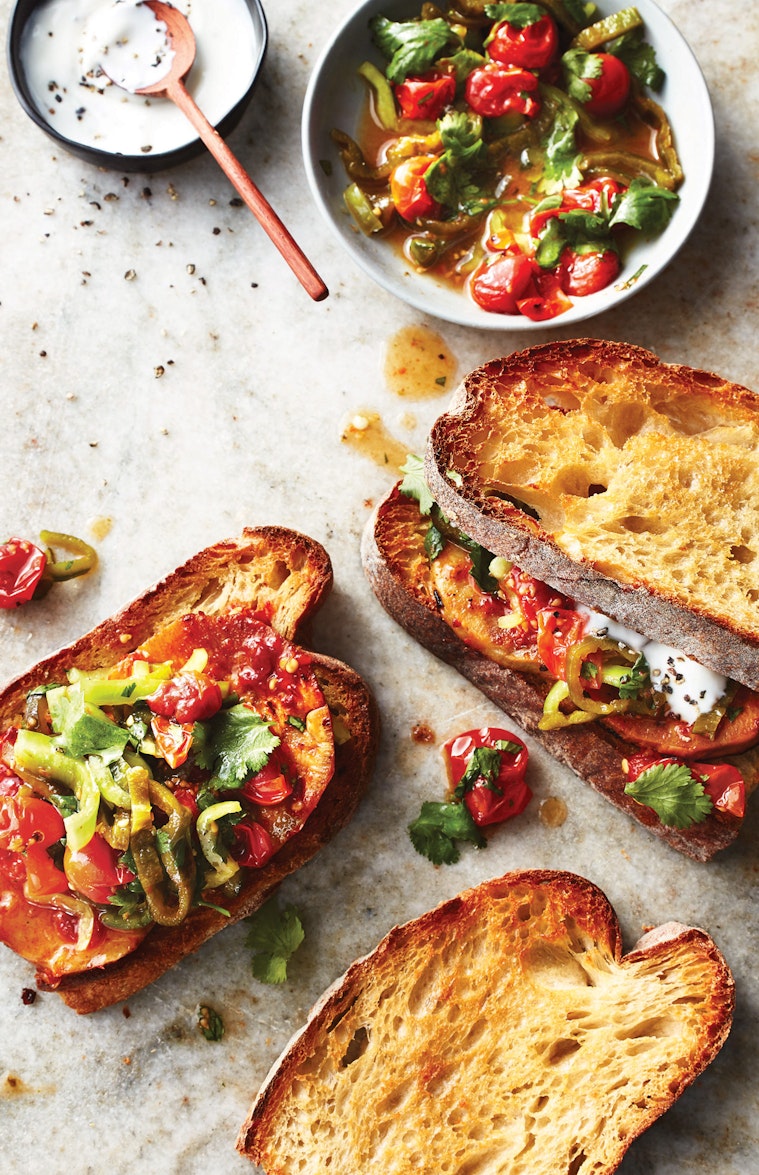 Spiced Sweet Potatoes on Country Toast with Banana Peppers and Cilantro
15 pear tomatoes
2 poblano peppers, seeds removed and thinly sliced
2 tablespoons extra-virgin olive oil
1 pound Okinawan sweet potatoes or yams, peeled and cut lengthwise into 1/2-inch thick pieces
2 tablespoons roasted garlic oil
1 tablespoon sambal oelek
1 teaspoon ground cumin
1 teaspoon onion powder
1 teaspoon garlic powder
½ teaspoon ancho chile powder
Kosher salt and freshly ground black pepper, to taste
12 to 15 cilantro leaves, plus 1/2 cup leaves and tender stems
6 sweet banana peppers, thinly sliced
2 1/2 tablespoons fresh lime juice and zest (about 2 limes)
1/4 cup plain yogurt (not Greek-style)
6 slices whole-grain country bread
1. Preheat the oven to 400°F. Toss the tomatoes and sliced poblano peppers with the olive oil on a baking sheet; arrange in a single layer. Bake until tender, about 15 minutes. Set aside.
2. Toss the potatoes, garlic oil, sambal oelek, cumin, onion powder, garlic powder, chile powder, salt, and black pepper on a baking sheet and spread into an even layer; roast, flipping once, until cooked and browned, 20 minutes.
3. Mix the tomatoes and poblano peppers, 12 to 15 cilantro leaves, banana peppers, 2 tablespoons of the lime juice, salt, and pepper in a bowl; set the dressing aside. Stir the yogurt and remaining 1/2 tablespoon lime juice in a bowl.
4. To assemble the sandwiches, layer 3 slices of the bread with the sweet potatoes, salsa, yogurt mixture, and the remaining 1/2 cup cilantro leaves. Top with the remaining slices of bread. Garnish with lime zest.
Excerpted from 100% Real by Sam Talbot. Copyright © 2017 Oxmoor House. Reprinted with permission from Time Inc. Books, a division of Time Inc. New York, NY. All rights reserved.