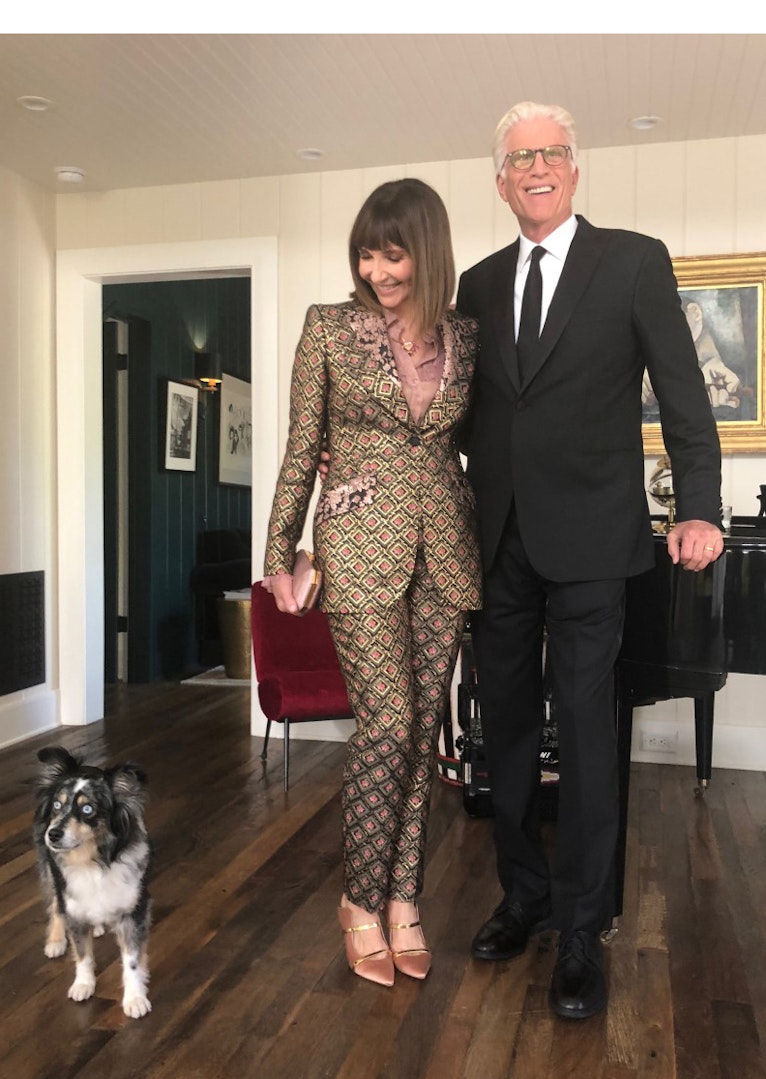 Ted Danson and Mary Steenburgen both have stars on the Hollywood Walk of Fame. Mary, an Academy Award and Golden Globe winner, and her husband, Ted, also a Golden Globe winner as well as an Emmy Award winner, have been stars on the screen for decades. Mary has played major roles in everything from Book Club, Melvin and Howard to Step Brothers, and Ted has held lead roles in the iconic TV series' Cheers, CSI, and currently, the NBC sitcom The Good Place, for which he was just nominated for an Emmy. They have both appeared on Curb Your Enthusiasm with their friend Larry David. In their travels, they've collected little treasures from all over the world.
"Going through pieces – letting go of things – is such an interesting and complicated experience," says Mary. As people who spend so much time traveling for work and living part of their lives in hotels, "having familiar items around helps us feel grounded." When Ted and Mary aren't working, they are both homebodies. "We constantly find excuses to do nothing but stay in. People who spend time with us are often surprised at how much of our life is just spent treasuring being cozy at home."
Whether on the road or relaxing at home, they spend their time surrounded by the items that remind them of who they are. They keep each other nearby, just as they do with the collection of items they have accumulated over the span of their careers – pieces which serve as fond reminders of work-related projects, places traveled, and experiences had.
"Ted and I have been married for twenty-six years, so many of the little treasures we have in our home have to do with our travels together and people that we've met on various film and television projects. We also have four children and three grandchildren, and anybody who has children knows that the treasures connected to your family are the most precious of all," says Mary.
Some of the pieces from the Steenburgen/Danson household were collected from flea markets across the world, while others were discovered at local antique stores throughout the United States during Mary and Ted's travels. They hope this collection of unique items "bring pleasure to anybody who chooses to include them in their own homes."
While letting go of one's collection is never an easy thing to do, Mary and Ted learned a valuable lesson years ago about repurposing items. As Ted explains, "Mary grew up in a very tiny house with a mom who was very practical about letting things go when they no longer served their purpose. We are trying to learn from her example, and, truthfully, nothing makes us happier than having things that we have lived with go to someone who will cherish them."
Add to your collection of treasures by shopping Mary and Ted's sale, which includes items compiled from iconic television and music sets.
Shop the whole sale

HERE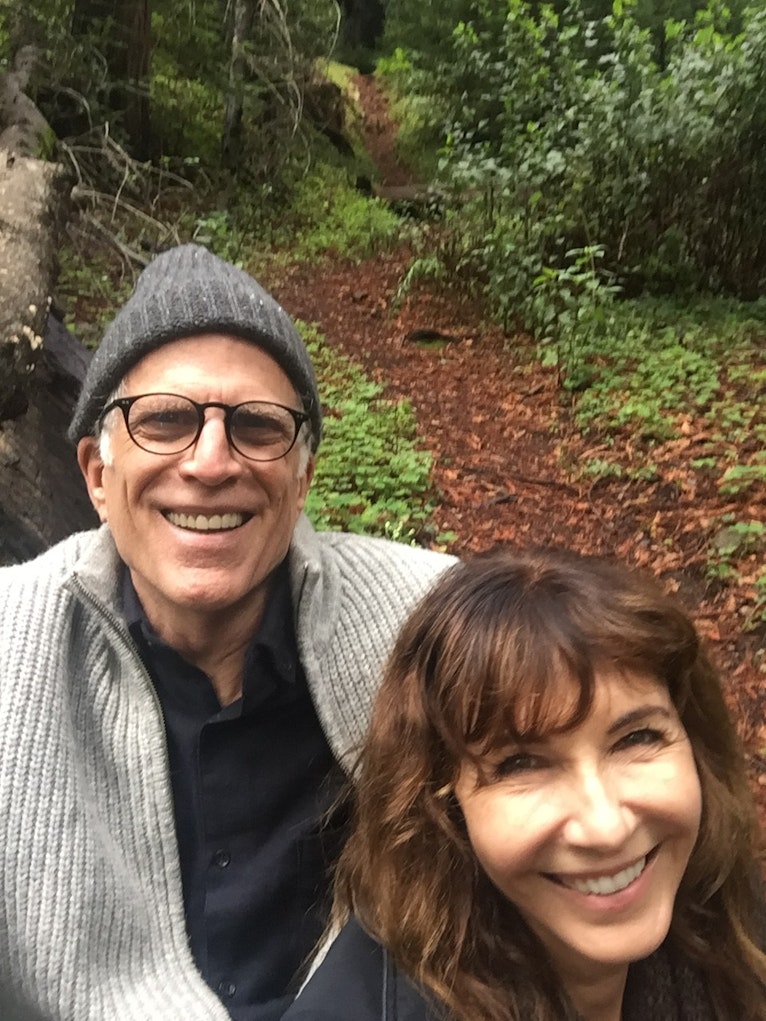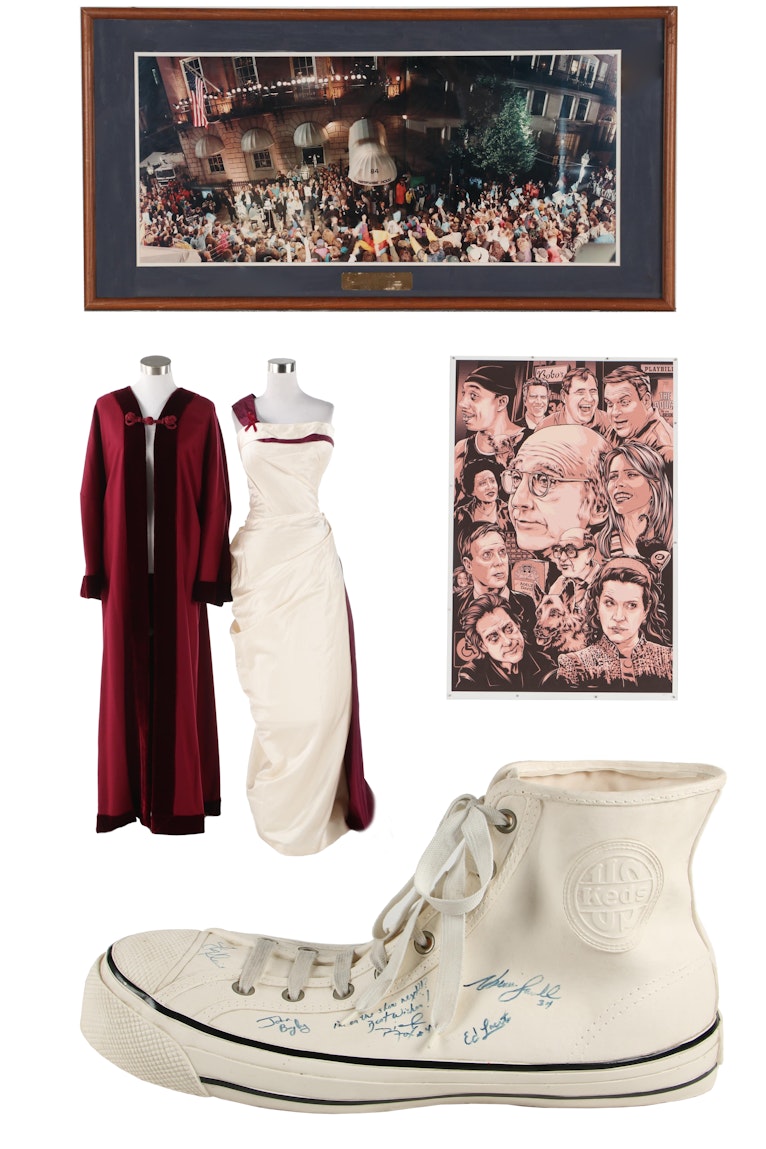 "Ted Danson at Cheers Last Call" Photograph (top): "(We) hadn't seen each other in a couple of months and it was the last time we would all be together as a group. Taken outside the bar in Boston."
-Ted


Custom Designed Colleen Atwood Gown and Cape Worn at 1993 Inaugural Ball (middle left): Colleen Atwood is an American Costume Designer who has been nominated for the Academy Award for Best Costume Design twelve times. She has won four Oscars. She designed this gown for Mary to wear to the 1993 Clinton Inaugural Ball. Famed photographer Annie Leibovitz photographed Mary in this outfit. Colleen knew the weather would be cold and so she made the lovely cape to go with it as well.
"Curb Your Enthusiasm" Serigraph Designed by Ken Taylor (middle right): "My favorite time of year is when I get to go back to a season on Curb Your Enthusiasm"
-Ted


Larry Bird and the Boston Celtics Autographed Oversized Keds Shoe (bottom): "A present from Kevin McHale, the Boston Celtics forward, who appeared on a season of 'Cheers'."
-Ted

Proceeds from the sale will be given to charity, benefitting the incredible work of Oceana.
Oceana is the largest international advocacy group dedicated solely to ocean conservation. They are rebuilding abundant oceans by conducting specific, science-based policy campaigns in countries that control one-third of the world's wild fish catch. Oceana has won more than 200 victories and protected more than 4.5 million square miles of ocean since being founded.