Having grown up near Boston, Nancy Chase has been around antiques and historical home sites for the majority of her life. Knowing where old things come from seems to be in her DNA. When Chase was a kid she loved crafting, sewing, and building things, so fixing things just came along naturally. While attending college in New York, her grandfather passed away and she was given all of his woodworking tools. She's been collecting old tools that she regularly uses ever since.
Upon graduating from Bard College in Annadelle-on-Hudson with a degree in creative writing, most of her friends were moving to New York City, something she had no interest in doing. She had a wonderful apartment near the Hudson River that she didn't want to leave. During that time she desperately needed a job and heard that a local antique shop up the street from her apartment was looking for a repair apprentice. The antique shop mostly worked on projects for the Long Island Preservation of Antiquities and on the private collection of a stock house owner in New York City.
We recently sat down with Chase and asked her a few questions: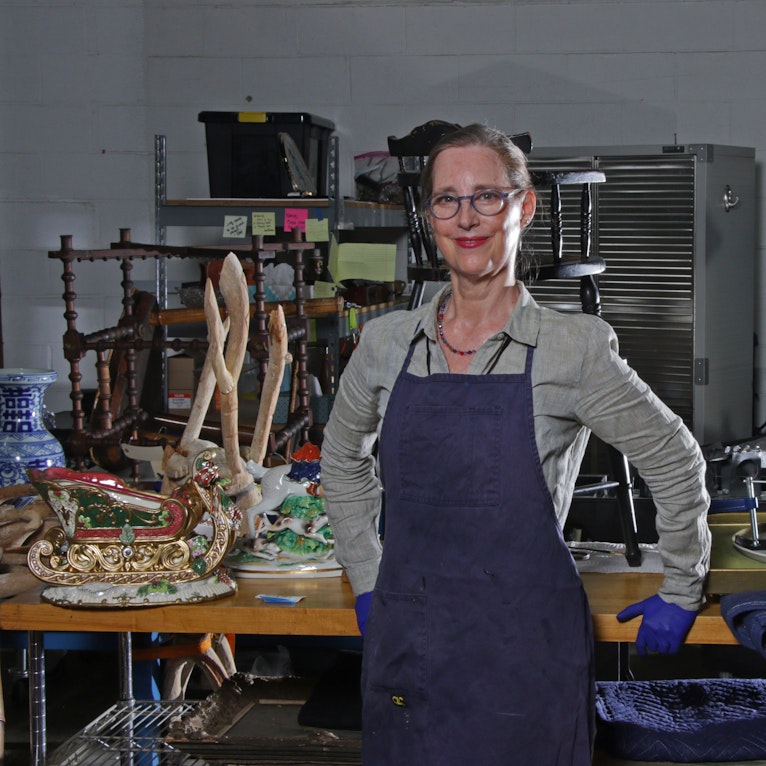 What are your favorite kinds of things to repair?
"I really enjoy repairing picture frames. I recently taught myself how to make molds for repairing gesso and I've learned to put the gold leaf over it. I really love it when the art department gives me more things to repair because I am able to fix paintings now as well."
Do you have any products you use that you couldn't live without?
"My hide glue. It is an old fashioned glue. I know everyone likes using Gorilla glue, which I can't say I'm a fan of. When I was apprenticing we would make our own hide glue out of horsehide on a wood stove. It smelled terrible, and came in little crystals."
Speaking of your own concoctions, is there anything else you make?
"Yes. I make my own shellac. It comes in different colors so I make an orange and a red. I also make my own walnut stain, every year I collect black walnuts in the fall and soak them in denatured alcohol and then I strain it to get a nice walnut stain."
What are some big no-nos with repairs? Are there common mistakes you see on pieces you have to fix?
"When repairing things, people often put things back together without taking out the old glue, making their new repairs weak. I really recommend trying to get all the glue off, before you re-glue something to put it back together."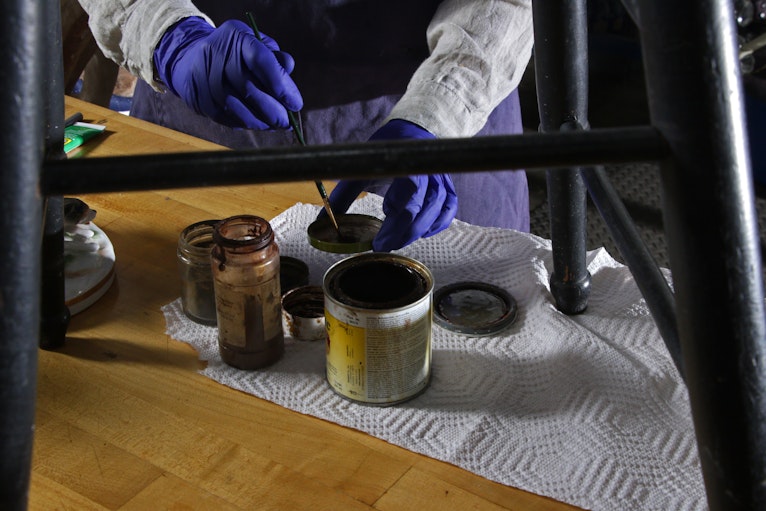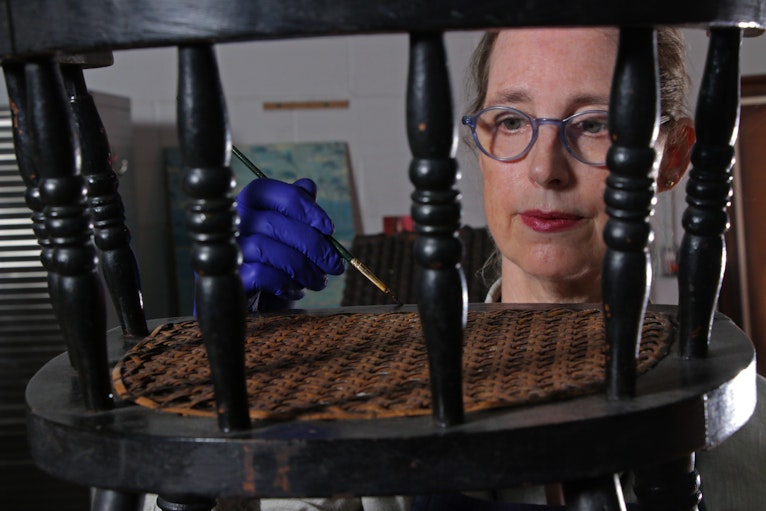 Is there anything you can't repair?
"Yes. Modern items that are made from particle board are very difficult or impossible to repair because the particle board splits and crumbles."
What are some of the most challenging projects you've worked on?
"I recently repaired an African sculpture that was heavily damaged. It was in 34 pieces and was a real puzzle to figure out."
Chase has been with EBTH since 2012, before her tenure she gained experience with Federation Antiques in Cincinnati and ran her own business.
Upon moving to Cincinnati in 1985, her dedicated New York clients referred her to their network of friends and connections in Indian Hill. Her business launched on referrals and had a lasting legacy through generations of families.
Chase is the real deal, and we're more than privileged to have someone like her on the EBTH team.