Louis Comfort Tiffany (1848-1933), the celebrated American designer, pursued a wide range of artistic endeavors but is perhaps best known for his glass. In the years around 1900, the vases, lamps and windows produced by his firm, Tiffany Studios, earned international accolades and created a long-lasting legacy of exceptional quality and design.
The son of Tiffany & Co. founder Charles Lewis Tiffany, Louis Tiffany always had artistic aspirations, and in his youth went on several trips to Europe and the Middle East to paint. Eventually, Tiffany's interests turned to interior design and the artistic possibilities of glass. He established his own glass manufactory in Corona, Queens by the early 1890s, producing large amounts of sheet glass for use in colorful leaded church windows, as well as for the lamps for which the firm became known.
Rebelling against the 19th-century taste for glass articles pressed with elaborate patterns, Tiffany sought a return to handmade glass with his production method, which combined colors while the material was in a molten state. Tiffany named the resulting product Favrile, a trademarked term derived from the Latin term "fabrilis" for "made by hand."
Tiffany Studios produced a wide range of glass vessels, including complicated types of glass such as paperweight, aquamarine and lava. As the firm's work gained popularity, Tiffany Studios also created more commercial lines of glass in gold and blue with their signature iridescence. Vases in simple, classic forms and those that imitated the shape of flowers, along with tableware of all varieties were readily available to buyers to satisfy the high demand for the firm's work. Leslie Nash, a manager at Tiffany Studios, noted that when the iridescent glass hit the market "it was like a gold rush." This type of glass remains highly desirable to collectors today.
Tastes changed, the company struggled, the Great Depression hit, and by the early 1930s Tiffany Studios was shuttered. The revival of Art Nouveau in the 1970s, however, renewed interest in the glass, and collecting began in earnest. "The lamps started to sell for more money, and people started to pay attention," notes EBTH Knowledge Management Director Jeni Sandberg. Today, Tiffany Studios glass continues to be highly collectible whether as gold tableware, jewel-toned specialty pieces, or leaded glass lamps.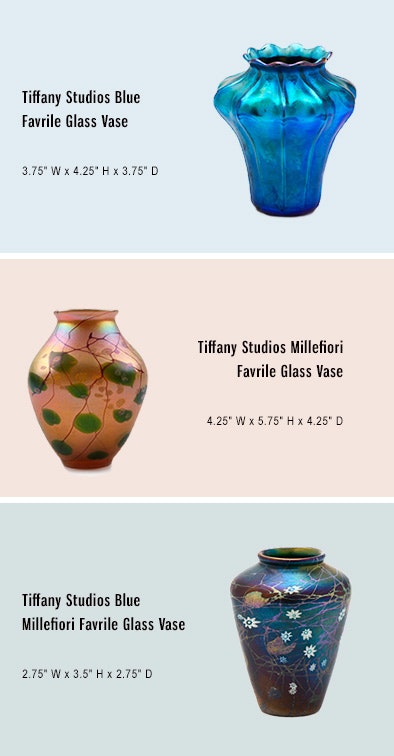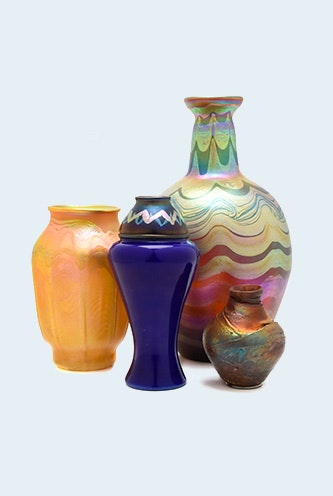 Often Imitated
In the United States, the success of Tiffany Studios spawned a number of imitators. "Durand and Steuben were American manufacturers who saw Tiffany's success, and created their own lines of iridescent art glass," notes Sandberg. "They developed their own formulas and techniques that generated unique looks, such as Durand's 'Moorish Crackle'.
Ancient Inspiration
"Louis Comfort Tiffany collected ancient Roman and Egyptian glass and sought to create glass designs that would stand the test of time. Antique glass develops a colorful, iridescent surface and becomes pitted, both of which the craftsmen at Tiffany Studios attempted to recreate. Tel-El-Amarna was one of the lines produced specifically to imitate Egyptian and other classic forms, with simple shapes and deep jewel-tone colors."
How to Tell It's Tiffany
"Ultimately, it's most important to trust the source from whom you're buying glass, but the form, the character of the iridescence, and how the piece is finished will tell you if it's right," explains Sandberg. "Because everyone had their own recipe for the fuming of the iridescence, the Durand and Steuben will look a little different." She cautions against trusting any signatures that appear on a vessel. "Just because something says Tiffany Studios, does not mean that it is — some can be spuriously signed."